The Company You Keep
(2013)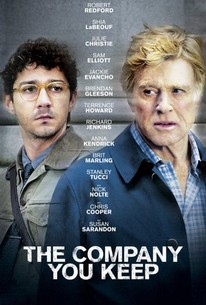 The Company You Keep Photos
Movie Info
A wanted man and former member of the revolutionary militant group the Weather Underground goes on the run after a journalist (Shia LaBeouf) outs him in this political thriller based on Neil Gordon's novel. Robert Redford stars and directs this Voltage Pictures/Wildwood Enterprises production. ~ Jeremy Wheeler, Rovi
People Who Like this movie also like
News & Interviews for The Company You Keep
Critic Reviews for The Company You Keep
Audience Reviews for The Company You Keep
An under-rated, but good film starring, and directed by Robert Redford. The acting is solid throughout, and Shia LaBeouf is surprisingly good. It was a treat to see Julie Christie again, also! She still looks lovely. What makes this movie compelling is that it aims at the intellect. It is not just a movie about aging 60's activists, and extremists. It discusses the motivations, and philosophy of the period. Well done...
Cynthia S.
Super Reviewer
½
It's just not a good story.
** "The Company You Keep" is one of those complex thrillers with some twists and turns, that just doesn't work out quite like it could have. I dunno what it was about it, but I didn't think it was as good as it could have been. It stars Shia LeBeouf as a reporter who learns the true identities of fugitives who had committed a murder 30 years prior. It weaves back and forth between him trying to find the truth, and one of fugitives trying to clear his name to remain with his daughter. The fugitive in question is played by Robert Redford(who also directs) and man he is still great after all these years. He has that "movie star" quality that a lot of actors just don't have anymore. The cast is great, even LeBeouf does a good job. Susan Sarandon, Sam Elliot, Terrance Howard, Richard Jenkins, among others round out the stellar cast. But the pacing and subject matter just don't really sustain(at least for me). I think if it focused more on Redford, and less on LeBeouf, it would have been better. But then again, it would have been a completely different movie. I love a good political type thriller(for example, "Ides of March" was pretty good)but this was just "meh". Maybe it was when I watched it(kind of late at night) and just wasn't as interested as I could have been. Maybe on a second viewing I will like it more. I can see why people will like it, because it is a smart movie. But at the same time, I can see how it will be off putting for others. Worth a rental? Sure, judge for yourself. But I'd pick up a spare movie just in case;-)
Everett Johnson
Super Reviewer
The Company You Keep Quotes
Discussion Forum
Discuss The Company You Keep on our Movie forum!