The Concorde... Airport '79
(1979)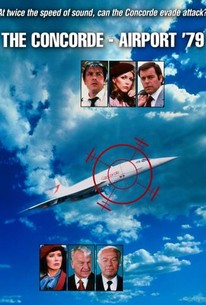 The Concorde... Airport '79 Photos
Movie Info
The fourth Airport film may be the silliest of them all, as George Kennedy returns, this time co-piloting with Alain Delon. The plane is on its way to the Moscow Olympics, has a bomb on board, and gets fired upon with missiles that necessitate flying upside-down. A look at the cast list resembles a bad episode of Fantasy Island, but it's always fun to see shameless touches like casting Mercedes McCambridge (Johnny Guitar) as the coach of the Soviet team. If you don't understand the significance of that choice, you may find this film more tedious than laughable, but fans of bad movies will have a field day, as Jimmie Walker, Charo, and -- oddly enough -- Bibi Andersson rub shoulders with high-altitude disaster. ~ Robert Firsching, Rovi
Critic Reviews for The Concorde... Airport '79
Audience Reviews for The Concorde... Airport '79
½
Fourth and final film in the series is a predictable affair, and is a boring uninteresting end to this series of average disaster films. The first three films were amusing popcorn flicks that couldn't be taken seriously. However with this fourth film, everything about it seems out of place. The film's script is poorly written. The acting here is very bad, laughable and it's a film that just doesn't have any redeeming qualities whatsoever. Don't expect anything with this film as it is boring, predictable and the filmmakers have explored the airplane disaster concept long enough. There's just nothing good with this film. Airport should have been a trilogy. However to cash in on the name of the series, the filmmakers had to make a fourth entry, and it turned out to be a very poor way of ending the series. The first three films weren't great, but they were fun, and this is what this film lacks. Everything this time around is so over the top, even by these films standards that you just don't care and you're finding yourself bored as you know it's the same old tired out, dragged out formula that we've seen many times before. I didn't like this film whatsoever and it's a very poor way of ending the series. If you want the best one in the series, stick with the first film, and if you want mindless popcorn flicks, and then check out the second a third film. However avoid this one as it is a very bad film that is poorly written and executed disaster flick that ends up being tiresome.
Terrible junk that is low rent in every category. Abysmal special effects, a script that is pratically incoherent, and great, good and bad actors all going down with the ship mostly because the characters they play make absolutely no sense. Avoid this if at all possible.
Final installment of the Airport series which had been steadily declining since the original in 1970. The efx are pathetic, but even worse the storyline is poor with plot holes big enough to fly the concorde through. The script is downright awful, with plenty of awkward moments, although meant to be serious, elicit snickers or belly laughs from the viewer. Poor george Kennedy, minimalized in Airport 1977, has a leading role in this feature but almost seems embarassed by this fiasco. A poor wrap-up to the series. This movie can best be summed with by the "cockpit" remark..poor taste and putrid. The movie seems to suddenly end; I guess the producer ran out of money and decided enough was enough.
The Concorde... Airport '79 Quotes
There are no approved quotes yet for this movie.