The Curse of the Werewolf
(1961)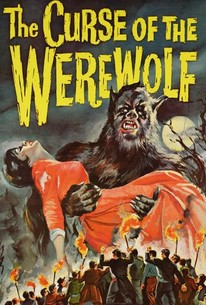 Movie Info
After injecting new life into classic movie monsters Dracula and Frankenstein, Hammer Studios apply their Gothic touch to another monster genre with this excellent, stylish piece -- probably the best of the old school (i.e. pre-Rick Baker) man-to-wolf transformation films in the mold of Universal's The Wolf Man. The title curse surfaces when a mute servant girl bears a child on Christmas day after being raped by a bestial madman and first shows itself at the infant's christening, whereupon the holy water begins to boil. Things go downhill from there, as young Leon's development is marred by savage, violent behavior during a full moon. Upon adulthood, Leon's (Oliver Reed) only relief from his murderous impulses comes from the love of Christina (Catherine Feller)... but he soon begins to fear that this cannot contain the beast within. Liberally based on Guy Endore's The Werewolf of Paris (here relocated to Spain), this film represents Hammer at their early best, building tension through mood and character (Reed turns in a bravura performance) and saving the effective monster transformation for the climax. ~ Cavett Binion, Rovi
News & Interviews for The Curse of the Werewolf
Critic Reviews for The Curse of the Werewolf
Audience Reviews for The Curse of the Werewolf
Classic furry tale set in Spain for this wolfman fable and its not too bad for a different look and feel. Its classic 'Hammer' all the way of course, well spoken actors mixed with cockney Londoners haha very Spanish feel I assure you ;) But its the look of the film which is really nice, yes the sets are obvious but they are also really well crafted, very lavish and colourful, really looks good. The actual wolfman design is basic by todays standards and doesn't look too great but not that bad either, a silverish, white haired choice of the Classic Chaney look which isn't far from the new 'Wolfman' movie design. Blue eyed Reed plays the part as well as can be whilst his gruff looks do match the role nicely, other cast members are all as you would expect from 'Hammer', both theatrical and bold in their posing and speeches. Plenty of red paint throughout the film as animals and people get their throats torn out, lots of screaming ladies in distress and an ending not far from 'Frankenstein', problem is the director spends too much time building the story and not leaving enough film time for wolfing around.
Phil Hubbs
Super Reviewer
The under-rated late Oliver Reed shines as Leon who's born into a life where he turns into a werewolf on a full moon. However the film is too much like any other werewolf movie, they all end the same way. Even the new film is too much like any of the originals. However, if you want a werewolf movie that actually ends different, then watch Wolf with Jack Nicolson. Curse of the Werewolf could have at least had an happy ending since the being around his girlfriend when a full moon came out did stop him from changing. So why couldn't she have just approached him in the end, rather than us just getting yet other ending that involves a silver bullet ?
Curse of the Werewolf started off in an unconventionally amazing way as it started with some gruesome territory involving rape, gruesome murder and other elements you wouldn't expect from a movie from the early 60s. I liked how it told an almost life story of a werewolf giving the curse more spiritual origins than mystical ones. Terence Fisher's direction is superb and as cool as the werewolf looked, the fact that you don't see him until the last 10 minutes of the movie was pretty dumb. The fresh take was a nice change but the lack of monster kind of ruined it. Not a bad watch but its been done better.
Michael Gildea
Super Reviewer
The Curse of the Werewolf Quotes
There are no approved quotes yet for this movie.