The Devil's Miner
(2006)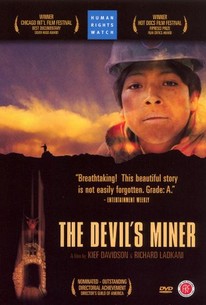 Movie Info
"The Devil's Miner" follows two brothers, 14-year-old Basilio and his 12-year-old brother Bernardino, who live in poverty with their mother in the mountains of Bolivia. They work long shifts in the Cerro Rico silver mines, braving deadly conditions to earn enough money to attend school. Daily the brothers go into the underground mining tunnels and tempt fate in order to gain a better life. Through the children's eyes, we encounter the sixteenth century mine, where devout Catholics sever their ties with God each time they enter the shafts, because of the ancient belief that the devil, as represented in the hundreds of statues constructed in the tunnels, determines the fate of all who work there. Raised without a father, the boys assume many adult responsibilities and must work to afford the clothing and supplies vital to their education. Basilio believes only the mountain devil's generosity will allow them to earn enough money to continue the new school year. Without an education, the brothers have no chance to escape their destiny in the silver mines.
Critic Reviews for The Devil's Miner
Audience Reviews for The Devil's Miner
[font=Century Gothic]"The Devil's Miner" is a documentary about Basilio, a 14-year old mine worker in the silver mines in Bolivia, who has been working there for the last four years while his 12-year old brother assists him. Sometimes he works 24 hour shifts, gnawing on coca leaves to give him energy to stay awake. Life expectancy is 35-40 years for the average miner because of silicosis which is due to inhaled dust particles. Conditions in the mines are bad anyway because of risky explosions and poisonous gas. If his father had not died some years before, he would not have to work in the mines.(The mines were started in colonial times by the Spanish who exploited the Indio population as slaves. You can see how little things have changed over the years.)[/font] [font=Century Gothic][/font] [font=Century Gothic]"The Devil's Miner" is a heartbreaking documentary that is told entirely from the point of view of Basilio, his family, other workers and a local priest. I might have had concerns about using a child to talk about a miner's life as a cheap ploy to get sympathy but it works as a look into a possible future, not only for him but for all of the other miners. Basilio goes to school and wants to become a teacher. He sees the mines as a temporary situation. Let's hope so.[/font]
The Devil's Miner Quotes
There are no approved quotes yet for this movie.