The Devil's Nightmare
(1971)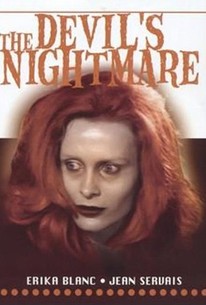 AUDIENCE SCORE
Critic Consensus: No consensus yet.
Movie Info
This seedy but effective little supernatural thriller involves a group of seven travelers -- each of whom represents one of the Seven Deadly Sins -- who take shelter in a mysterious baron's haunted castle, where they are visited in turn by a seductive, lingerie-clad succubus (Erika Blanc), who metes out suitable punishment in accordance with their evil deeds. It is revealed that their enigmatic host is a former Nazi general whose family's Satanic legacy includes the birth of a malevolent she-demon into each generation. Only the token priest of the group manages to stand up to the evil forces. A Belgian/Italian co-production; also released as The Succubus, The Devil's Longest Night, Castle of Death and The Devil Walks at Midnight.
Critic Reviews for The Devil's Nightmare
Audience Reviews for The Devil's Nightmare
½
A decent Italian gothic horror that is somewhat underrated. The music was brilliant and extremely errie. I really enjoy the different methods of murder invovling seven deadly sins. The film has a beautiful set and extremely atmospheric. The characters were colourful, Erika Blanc looked super hot in the film. The pace of the film was a bit slow, lots of unecessary little scares were used through out, but it doesn't stop the film from being entertaining.
Sylvester Kuo
Super Reviewer
Seven stranded tourists, each representing a deadly sin, spend a night at a castle where they are killed or corrupted by a succubus. The seven deadly sins angle is intriguing, but the movie itself is slow and dull; after a perverse introduction, it takes an hour of additional setup before anything starts to happen. It's a "serious" horror movie with some interesting imagery and atmosphere and a creepy Devil, but not enough virtues to overcome the ponderous script.
The Devil's Nightmare Quotes
There are no approved quotes yet for this movie.