The Dirties
(2013)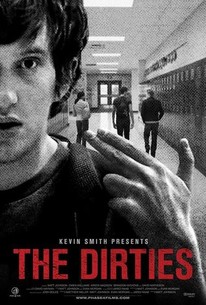 TOMATOMETER
AUDIENCE SCORE
Critic Consensus: The Dirties uses likable characters and a surprisingly twisted story to deconstruct the power of violent revenge -- and the audience's expectations when viewing it.
Movie Info
When two best friends team up to film a comedy about getting revenge on bullies, the exercise takes a devastating turn when one of them begins to think of it as more than a joke. (c) Phase 4
News & Interviews for The Dirties
Critic Reviews for The Dirties
Audience Reviews for The Dirties
Although praised by Kevin Smith and others as a must-see film, I don't see anything here that hasn't been covered off by other attempts to look at the psyches of shooters in school settings. I praise the Canadians involved in putting together a low budget well executed film but it would have been better to surprise the audience.
John Ballantine
Super Reviewer
Well written and acted, The Dirties is unfortunately dead in the water thanks to the terrible execution - the use of found footage doesn't for one moment convince (nor play by its own rules with edits and non-diegetic sound).
Daniel Parsons
Super Reviewer
½
This is a pretty timely movie considering the number of school shootings that have plagued the U.S since Columbine. Granted, this is a Canadian film, where you don't really see these things happen as frequently as it does in the U.S. The film looks at two best friends making a film for school and they've decided to make it about this 'gang' they call, you guessed it, The Dirties, that bullies both of them. They incorporate their real-life bullying into a scripted film where they get their revenge on their bullies. Of course, as Matt and Owen start to grow apart due to the fact that Owen is finding new friends and finding himself in a new scene, Matt's psyche starts to deteriorate to where he starts to plan out an actual school shooting. Things start innocuously enough, it almost starts out like a joke to where Matt might seriously talk about it, but that's all he'd do, talk about it. As Owen starts distance himself from Matt, though, that's when things become more serious and he plans out the entire attack without even telling Owen. Matt is pretty much a psychopath and you see that deterioration in his psyche, to the point where you get to see that he's actually pretty fucked up when you think about it. The story is very heavy on film references. And, at first, you think it's a cute way of Matt Johnson, the actual director of the film and not the character he portrays, to show that he grew up as a film nerd and a cute way to pander to film lovers. But it's a very important part of the story and of Matt's personality. It's a big reason for why he ended up doing. The way he plans this out, as if what he was about to do wasn't real and it was just something to do for the film, and the way he carries it out is incredibly disturbing. This is a guy that's been bullied to the point where films are his only refuge and real escape from the bullies, that he can't even tell the difference between what's real and what's fake anymore. I think that if Owen had stuck by his friend when he really needed him, you'll know the moment, this all could've been averted. After their big argument, Owen tries to call Matt, presumably to apologize, but Matt decides not to answer and carries on with his plan. The climax is pretty disturbing because of the fact of how real school shootings are, you're almost kind of dreading it. It's certainly not a pleasant thing to watch, considering how many of these shootings we've seen. Another thing about the movie was surprising was how funny it actually was. It goes to some pretty dark places but I don't think it ever really mocks or glorifies the shootings that have taken place, which is a fine line they had to travel and I think they did so in about as nicely, for lack of a better term, a manner as possible. This is a very good movie, but it's probably one that requires some patience but it's a very rewarding film that explores some very real issues such as the effect bullying has in someone that chooses to do what Matt did. So just for that, it's worth watching. It's well-written, it has an air of authenticity, and it has a strong cast. Can't really complain about this, other than the pacing was poor at times.
Jesse Ortega
Super Reviewer
The Dirties Quotes
| | |
| --- | --- |
| Owen: | This is sick! This is sick how you act like this all the time now. |
| Matt: | What are you talking about? |
| Owen: | How it's always a movie for you, how you're always acting. It's pathetic! |
| | |
| --- | --- |
| Owen: | You are a pussy. You talk big and you don't do shit. That's a pussy! |