The Disappointments Room
(2016)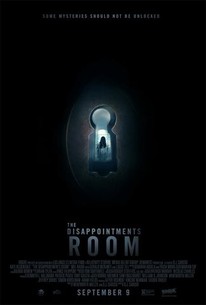 The Disappointments Room Videos
The Disappointments Room Photos
Movie Info
In this psychological thriller from the director of Eagle Eye and Disturbia, Dana and David move from Brooklyn to a once-grand southern mansion with their 5 year old son looking for a fresh start. But Dana's discovery of a secret room unleashes unexplainable events that test her sanity and slowly reveal the home's terrifying past.
News & Interviews for The Disappointments Room
Critic Reviews for The Disappointments Room
Audience Reviews for The Disappointments Room
Seriously, who fucking edited this? When you pit a word like "Bad", "Weak" or in this case "Disappointment" in your film title, it's worth making sure that the movie doesn't actually suck, otherwise you're just asking to get roasted by the critics.
You may not recognize the name D.J. Caruso, but if you're under the age of thirty-five you've probably seen a few of his movies. Whether it be the 2004 Angelina Jolie mystery/thriller Taking Lives, the double feature he directed with Shia LaBeouf in 2007 and 2008 with Disturbia and Eagle Eye or even the sign his career wasn't headed in as promising a direction as we'd hoped with 2011's I Am Number Four adaptation. The thing is, I want to like Mr. Caruso as I hold a special place in my heart for Disturbia which was more or less a modernization of Hitchcock's Rear Window (which itself was based on Cornell Woolrich's short story 'It Had to Be Murder'), but done with the added elements of humor and teen drama to make it more appealing to a broader audience. That Caruso was able to take the tense and rather static story from which Rear Window came and infuse it with a sly charm while keeping the inherent tensions intact was a feat worth acknowledging, but in the near decade since Disturbia it seems the filmmaker has become more a director for hire rather than the auteur he seemed to show the promise of becoming. What happened to the director? Why is his next project a fifteen year later sequel to a Vin Diesel movie that was only greenlit in the first place because of the success of The Fast & the Furious? We may never know, but while The Disappointments Room might have been a much hyped spring/pre-summer release rather than a slight horror film hoping to be disposed of in the dumping grounds of September ten years ago (given both Caruso's clout as well as Beckinsale's at that time) that is unfortunately exactly what we have today. Worse, The Disappointments Room suffers at the fate of being the first film to be released since Relativity Studios filed for Chapter 11 Bankruptcy Protection on July 30, 2015. And so, with a reported budget of $15 million Relativity and its Rogue label are simply hoping to make some kind of profit by releasing this as quick as they can before its sits too long on the shelf. Despite all of what it has going against it though, it is easier than one might expect to understand why Caruso, who penned the screenplay with Wentworth Miller (Prison Break), had a desire to tell this story; the real issue being they chose to tell this story within the confines of a stale genre template. read the whole review at www.reviewsfromabed.com
Philip Price
Super Reviewer
Disappointment would be my line for this movie. Like, I wanted it to be something else other than just a pack of horror clichés, but I just get what it just shows me instead of what I just wanted.
EpicLadySponge the Adventurer
Super Reviewer
The Disappointments Room Quotes
There are no approved quotes yet for this movie.
Discussion Forum
Discuss The Disappointments Room on our Movie forum!