The Dungeonmaster
(1985)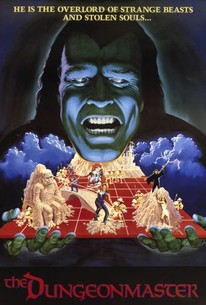 AUDIENCE SCORE
Critic Consensus: No consensus yet.
Movie Info
First shot in 1983 but not released until 1985, this low-budget, amateur fantasy is about Paul Bradford (Jeffrey Byron), a computer whiz who takes on the forces of evil in the guise of Heavy Metal (Blackie Lawless), the leader of an eponymous L.A. band, and Mestema (Richard Moll) the black magician who forces Paul into seven separate confrontations with powerful enemies, much in the manner of Hercules and his challenges (each confrontation directed by a different individual). The nasty Mestema is holding Paul's girlfriend Gwen (Leslie Wing) hostage, giving him all the more reason to meet these challenges, armed with his computer and nothing more. And all this happens in a mere 73 minutes of running time -- counting the long credits -- or about 10 minutes a challenge.
Critic Reviews for The Dungeonmaster
All Critics (2) | Fresh (1) | Rotten (1)
Given the title, it's not surprising that the movie feels like a re-hash of several teenage roleplaying sessions rolled into one, but the special effects really hold up.
Audience Reviews for The Dungeonmaster
A demon sucks a computer expert into a dream world where he puts him through a series of tests, each directed by a different B-movie hack in a different style, including a MAD MAX ripoff, a detective story, and a W.A.S.P. music video (!). With a gratuitous nude dream sequence, cheesy paint-on-the-film special effects, and lines like "I reject your reality and substitute my own!," this guilty pleasure is the apotheosis of nerd camp.
The story makes no sense, it's all over the place, and the ending is stupid. I hated this movie.
We Dungeons and Dragons crazed players just ran to see this greatly-promoted flick in the mid-80's. It was a cheap carnival ride of a movie, with a geeky scientist and his hi-tech digital watch - having to become a hero to rescue his sexy new girlfriend from a demonic wizard who calls himself "The Dungeonmaster". The hero dude must complete several tasks laid out by the Dungeonmaster to win his girl back. Each task takes him to different places and times, and were done by different directors. One challenge had the hero taking out a stone giant, with great stop-motion animation, which lasted only a few minutes. Too much time is spent with the challenge involving the hero stopping serial killer in a present-day city setting. There's a post-apocalyptic Road Warrior homage. There was a good challenge in a wax museum of horrors, and all the figures coming alive. The dialogue between the hero and the Dungeonmaster is hilarious and badly written. It was a cheesy movie on a shoestring budget. Vehicles, actors and music was re-used from the "Metalstorm: The Destruction of Jared-Syn" flick.
Lafe Fredbjornson
Super Reviewer
The Dungeonmaster Quotes
There are no approved quotes yet for this movie.