The Edge of Seventeen
(2016)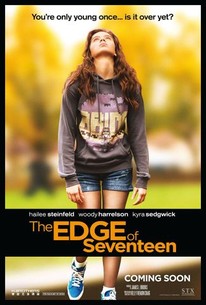 TOMATOMETER
AUDIENCE SCORE
Critic Consensus: The Edge of Seventeen's sharp script -- and Hailee Steinfeld's outstanding lead performance -- make this more than just another coming-of-age dramedy.
The Edge of Seventeen Videos
The Edge of Seventeen Photos
Movie Info
THE EDGE OF SEVENTEEN is a new coming-of-age movie in the vein of Sixteen Candles and The Breakfast Club - an honest, candid, often hilarious look at what it's like to grow up as a young woman in today's modern world. Everyone knows that growing up is hard, and life is no easier for high school junior Nadine (Hailee Steinfeld), who is already at peak awkwardness when her all-star older brother Darian (Blake Jenner) starts dating her best friend Krista (Haley Lu Richardson). All at once, Nadine feels more alone than ever, until the unexpected friendship of a thoughtful boy (Hayden Szeto) gives her a glimmer of hope that things just might not be so terrible after all. The film also stars Kyra Sedgwick as Nadine's well-meaning but completely ineffective mother, and Woody Harrelson as Nadine's History teacher, mentor and reluctant sounding board. The Edge of Seventeen is produced by Academy Award winner James L. Brooks - the filmmaker behind big-screen, character-driven classics such as Terms of Endearment, Broadcast News, Big, Say Anything, The Simpsons, Jerry Maguire and As Good as It Gets.
News & Interviews for The Edge of Seventeen
Critic Reviews for The Edge of Seventeen
Audience Reviews for The Edge of Seventeen
½
"Shit. Underdeveloped? Overdeveloped? A good movie's a good movie." - Ice T
½
I'm a sucker for any decent coming-of-age story. Even average ones are time well spent, and this one proves it. The movie isn't as clever as it thinks and more predictable than it wants, but the story is as strong as the great performace put on by Steinfeld. I appreciate any film that can accurately depict some form of social anxiety and clearly illustrate a real, but not overly-dramatic personal struggle, and this film does just that.
Sanjay Rema
Super Reviewer
From The Breakfast Club to Superbad, the coming-of-age genre has been fairly popular through the years, and The Edge of Seventeen is just another classic to add to that ever growing library. While it does advertise itself as a film that will give teenagers some great life lessons, I highly recommend at least being as old as the lead characters. This is a very mature film for all ages above seventeen. It is very rare for a film like this to come out and draw in a wide audience, which is why this film is not being recognized by average moviegoers. Hidden in the cinemas under the hype of films like Fantastic Beasts and Where to Find Them or Moana, there is not really a time to release a film like this where a major release won't steal its audience. I am focussing heavily on this statement, solely due to the fact that I believe everyone should view this film at least once before the year is up. Here is why The Edge of Seventeen is one of the best films of the year. Whether you have lost a parent, a friend, have become emotionally distant from your family, or have been so down on yourself that you turn to anything to make yourself happy, no matter what it is, I assure you that this film will relate to you in some way. The Edge of Seventeen follows Nadine, a 17-year-old high schooler who has recently lost her father. She has grown up with only one friend her entire life and as soon as that is stripped away when her best friend begins to date her brother, she is left with nothing but herself, whom she despises. This may seem like a very depressing tale on the surface, but if you let yourself into its story, there are laughs and a wonderful character study on this young lady. Once again, whether you are 18, 30, or 50, you will be able to recall a moment in your life that pertains to at least one moment presented throughout the course of this film. Films of this genre are meant to give certain emotions to audience members of all ages, but there are also some that are not for everyone, directing themselves at a core age group. The Edge of Seventeen is not part of the latter in this instance. As soon as this film seems to be getting a little too serious with its subject matter, it livens itself up by including Woody Harrelson's loveable portrayal of Nadine's teacher, Mr. Bruner. In times of need, whether it is for comedic effect or to move the plot forward in a satisfying way, this character holds a lot of this film together. Without him, Nadine's arc would not work as a whole. The structure of this film is impeccably done. When it needs to take a moment to weep, it does so. When it needs to make its audience chuckle before becoming too melodramatic, it does. Most of all, if it needs to reveal a message in its third act, you care so much about what these characters have gone through, that you will have nothing to do but believe everything that is happening on screen. Hailee Steinfeld deserves to be mentioned whenever the topic of coming-of-age stories happens to become a discussion. From Ellen Page's portrayal of Juno or Matthew Broderick's unforgettable take on Ferris Bueller, Steinfeld's way of playing the character of Nadine needs to be applauded if nothing else. She sold this character more than any other I have seen this year. This may not be the greatest film I have see this year, but I think this just may be my favourite character I have seen on the big screen. Her self-discovery in learning to love herself for who she is was absolutely fantastic. Like very few films I watch, this was all about the characters and they were so well fleshed out that I truly can't think of any aspects I would like to take away from it. I could honestly talk all day about how well this film was made, but I think a simple "perfect" will suffice for now. It may seem like a stretch to call a film like this perfect, but I found nothing that bothered me during my viewing of this film. Everything that needed to make her character develop and transform into who she is by the end of the film feels earned and I can't wait to go back and watch her journey again. The still camerawork normally would be too simple for me, but there is a time and place for everything. The simple and subtle cinematography throughout this film made me focus more on the story and its characters, rather than being blown away from sweeping shots or overwhelming music. To add to that, I could not believe that Hanz Zimmer did the score for this film. I commend him very much for taking on a smaller project like this. The Edge of Seventeen is everything I wanted it to be, and more. I loved every second of this film.
The Edge of Seventeen Quotes
There are no approved quotes yet for this movie.
Discussion Forum
Discuss The Edge of Seventeen on our Movie forum!