The Emperor and the Assassin (Jing Ke ci Qin Wang)
(1998)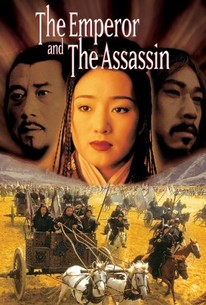 Movie Info
A lavishly produced historical drama from China, Jing Ke Ci Qin Wang/The Emperor and the Assassin tells the complex, multi-facetted story of the man who became the first Emperor of a unified China, another man who has sworn to kill him, and a woman who is loved by both men. Late in the Third Century B.C., when China was comprised of seven rival kingdoms, Ying Zheng (Li Xuejian) was the leader of Qin. Ying Zheng had a dream in which he joined together the seven kingdoms into a single utopian state, and taking this as a mandate from God, he invaded the nearby state of Han as the first step toward this goal. However, not everyone in the neighboring states was happy with Ying Zheng's crusade, which seemed to indicate a lengthy war with many casualties. Lady Zhao (Gong Li), Ying's lover, devised a scheme to help Ying Zheng take over the nearby and uncooperative state of Yan; she fabricated a fake assassination plot against him, and framed the leader of Yan, once Ying Zheng's childhood friend, as the man behind the murderous plot. However, Lady Zhao did not choose the would-be assassin wisely; while Jing Ke (Zhang Fengyi) loved her and was willing to do her bidding, Jing Ke's previous assassination assignment caused the unintended death of an innocent blind girl, which left him full of regret and a bit unstable. When Jing Ke learned a closely guarded secret about Ying Zheng's past, he became blindly determined to kill the would-be emperor, whatever the cost. Produced on a lavish budget by Chinese standards ($15 million), Jing Ke Ci Qin Wang/The Emperor and the Assassin was directed by Chen Kaige, best known to Western audiences for the international success Farewell My Concubine.
News & Interviews for The Emperor and the Assassin (Jing Ke ci Qin Wang)
Critic Reviews for The Emperor and the Assassin (Jing Ke ci Qin Wang)
Audience Reviews for The Emperor and the Assassin (Jing Ke ci Qin Wang)
½
Loads of costumer details, wartime battles, and a bit of Chinese history combine to make for an interesting couple of hours as the King of Qin ignominiously struggles to unite a divided China dead set against any grand uniting schemes or dreams (imagine as if Napolean tried uniting Europe, w/o all that annoying English spoiling interference!). Along the way there's spikes in the action, time for some fingerpointing drama, Dallas/Dynasty style, but not so much so as you lose track of the mostly unknown to the West story.
Kevin M. Williams
Super Reviewer
½
The Emperor and the Assassin is a historical drama, with a touch of Shakespeare, from writer and director Kaige Chen.
The plot does have its moments and it is interesting at times, but it is just too drawn out. The film is broken into chapters, which works out quite well with the story, however it isn't until the last chapter, which has the same title as the film, where things get really interesting. Unfortunately, this final chapter doesn't start until 2 hours and 20 minutes in. Yep, this is a long film. 2 hours and 40 minutes long. Despite having an interesting story, there needs to be more going on, like action or an upbeat tempo among other things. This film hardly has any of those, and the story, as deep as it is, can only hold for so long.
While the story does deal with the conquering of kingdoms throughout China, the action is very slim. There are no huge epic battles. Actually there are, but they are not shown. The film focuses more on the characters themselves.
The acting is good. Gong Li, Fengyi Zhang, and Xuejian Li all carry this film with ease. Kaige Chen even finds a role for himself to play. Also, be on the lookout for a young Zhou Xun.
The Emperor and the Assassin isn't a waste of time, however fans that can appreciate a good story, with little in the way of action, may find this enjoyable.
gorgeous epic about china's first emperor, every bit as good as hero and said to be more historically accurate. also it's almost 3 hours long but it's a complicated story! and it's not really a wuxia film
Stella Dallas
Super Reviewer
The Emperor and the Assassin (Jing Ke ci Qin Wang) Quotes
There are no approved quotes yet for this movie.