The End Of Time
(2013)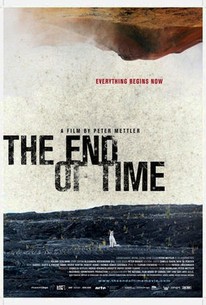 Movie Info
"Recalling the work of Terrence Malick, Werner Herzog and the late Chris Marker" (Hollywood Reporter), Peter Mettler's enthralling new film combines elements of documentary, essay, and experimental cinema to create a tour de force that challenges our conception of time - and perhaps the very fabric of our existence. With stunning cinematography and a knack for capturing astonishing moments, The End of Time travels the planet - from the CERN particle accelerator outside Geneva to the lava flows of Hawaii; from a disintegrating Detroit where Henry Ford built his first factory to the tree where Buddha was enlightened. Both mind-expanding and eerily familiar, Mettler's provocative film explores the links between renewal and destruction, between primordial mysticism and the furthest reaches of modern science, giving the viewer a transcendent cinematic experience.(c) First Run Features
Critic Reviews for The End Of Time
Audience Reviews for The End Of Time
½
Documentarian Peter Mettler interviews various people (scientists, artists, hermits, mystics) about their thoughts on time, using poetic footage of lava flows, particle accelerators, and digital mandalas as a visual background. A meditative but unfocused experiment that at times gets a little too hippie-dippy-acid-trippy for its own good. At two hours of plotless visuals, it's obviously not for everyone, but it earns points for earnestly exploring serious philosophical concepts that most movies shy away from.
The End Of Time Quotes
There are no approved quotes yet for this movie.