The Fate of the Furious
(2017)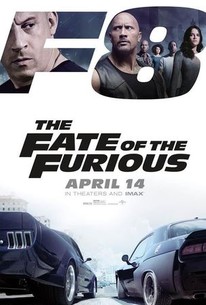 TOMATOMETER
AUDIENCE SCORE
Critic Consensus: The Fate of the Furious opens a new chapter in the franchise, fueled by the same infectious cast chemistry and over-the-top action fans have come to expect.
The Fate of the Furious Videos
The Fate of the Furious Photos
Movie Info
The latest installment of the Fast and the Furious franchise welcomes two Oscar-winning actresses: Charlize Theron plays Cipher, the latest villain to torment Dominic Toretto and his crew, while Helen Mirren joins the cast after publicly lobbying for a role to sate her real-life love of racing. Fast 8 also stars Vin Diesel, Dwayne Johnson, Michelle Rodriguez, Tyrese Gibson, Ludacris, Jordana Brewster, Kurt Russell, Elsa Pataky, Nathalie Emmanuel, Jason Statham, and Scott Eastwood. Directed by F. Gary Gray (Straight Outta Compton).
News & Interviews for The Fate of the Furious
Critic Reviews for The Fate of the Furious
Audience Reviews for The Fate of the Furious
WHEELS UP - My Review of THE FATE OF THE FURIOUS (3 Stars) Whenever I see one of these FAST AND FURIOUS movies, I always feel like I've been trapped in a Pitbull video. So, it should come as no surprise to me that the latest installment, THE FATE OF THE FURIOUS, opens with a Havana Drag Race sequence complete with a bevy of girls writhing around in slo-mo in short-short-short-like-I-can-see-their-whole-butts-mini-skirts all set to the beat of...you guessed it...a Pitbulll song! I've never wondered, "If only my life were like a Pitbull video". I've never belonged to a group of people who race for pink slips as their fans gyrate all-up-in-each-other like some hyper-stylized Spring Break montage from a 90s MTV show. But, every year or two, thanks to this ridiculously popular franchise, I get to imagine what that kind of vacuous lifestyle would be like. From a distance, it's pretty fun! The worldwide success of these films can be attributed to several key factors: Insanely over-the-top yet well-directed action scenes, a lively ensemble that leans in on the word "family" so hard that you almost believe the cast likes each other, and very few words to translate for foreign audiences. There's a lot to be said for a movie with so much going on yet is always easy to follow. While director F. Gary Gray and writer Chris Morgan deserve the lion's share of the credit for making it so, I want to give equal credit to the producers, as all of the films possess that simple clarity within all the mayhem. I've always found a strange sense of joy with how this ensemble delights in being badasses. It's there in Michelle Rodriguez's maniacal laugh whenever she narrowly escapes a fireball or in how Vin Diesel widens his eyes as he switches into Nitro power. Tyrese Gibson and Ludacris capably provide the comic relief, with some terrific details in their reaction shots here, and they have some goofy competition with Jason Statham, Helen Mirren, Dwayne Johnson, Kurt Russell, and a perfectly douchey new addition, Scott Eastwood (Clint's doppleganger son). But the main attraction this time out is Charlize Theron as the dreadlocked, super villain terrorist with the ridiculous name, Cipher. She basically blackmails Dom (Diesel) into turning on his gang to help her acquire some macguffin-like doohickey that can destroy the electrical grids, sending entire cities back into the Middle Ages. In the FAST & FURIOUS equivalent of phoning it in, Theron spends the majority of the film aboard her hyper-tricked-out jet, presiding over her evil lair with a menu full of sneers, glares, and barked commands. After a career of subtle, nuanced performances, it must have been immensely freeing for Theron to go into full Faye Dunaway mode. All that's missing is her exclaiming, "I'm considering nothing less than world domination!" ala Dunaway in SUPERGIRL. Of course, even Theron gets upstaged by the dazzling stunts and chases. In addition to the aforementioned Cuban opening sequence, we're treated to a big slab of showstoppers, including ones involving a wrecking ball, a high energy prison escape, and even an improbably swift moving nuclear submarine as it chops through an icy surface as if it were an Arabian steed. Who would want it any other way? These movies are one big, dopey smile. Now back to Hellen Mirren. Dolled up in a tight leopard print outfit and sporting a thick Cockney accent, she even manages to make sipping tea and using terms like, "He's your bruvver!" into a master class in comedic acting. Please, please, please put her behind the wheel next time out! Statham arguably owns the comedy in the film with a beyond-ridiculous fight scene on a plane in which he stops every now and then to tend to a baby. Cute infants rarely work in movies for me, but somehow the combination of bone-crunching stunts and a child cooing and giggling was all I needed to change my mind. Look, I'm not the biggest fan of the American Blockbuster. All weekend, I kept saying to myself that I'd rather watch Cynthia Nixon sit alone in a room for an eternity in A QUIET PASSION. It'll have to wait for another time, as THE FATE OF THE FURIOUS held a prime spot in my Writers Guild Screening calendar. Moreover, when they're made as well as these films are, it's difficult to complain...and even if I did, you'd never hear it over all the noise!
Glenn Gaylord
Super Reviewer
Despite some plot holes, the Fate of the Furious is able to inject a good amount of fun and excitement towards a franchise already fueled by its over-the-top action sequences and it's cheesy dialogue. The film's star-studded team in front and behind the camera continue to boost this high-octane ride and add more depth into this juggernaut known as the Fast & Furious. 4/5
Eugene Bernabe
Super Reviewer
Since the beginning of this franchise over 16 years ago, this crew has been through street racing, bank robbing, pulling a plane out of the sky, and dropping from a similar plane in the sky. It has been clear throughout every instalment that these films are just going to get more ridiculous. The main question most people will have when going into this film, is why they decided to continue without one of its core protagonists in Brian O'Connor in the forefront. Although he is sorely missed throughout the entire duration of this instalment and there is a clear missing link, I won't lie and call this film a complete waste of time, because I will admit that I had an absolute blast from beginning to end. The Fate of the Furious doesn't do anything new for the franchise, but it's a welcome entry that gives you just enough emotional depth if you have been following this franchise since 2001. Shown in the trailers, the plot of The Fate of the Furious is that Dom goes rogue, going against his passion for family. Here is where the biggest issue with the film occurs, because there is a much larger play going on behind the scenes that can't be spoiled. For that reason, the trailers don't really do this film justice to say the least. I have to get it out there that this film is much better than what the trailers lead on, but also more ridiculous as well. As long as you can buckle up and be ready for the most ridiculous action yet, I believe you will have a blast with this storyline, while also being treated with quite a few heartfelt moments that this series has based its core story around (family). When Paul Walker sadly passed away during the filming of Furious 7, it was apparent that this series was going to have to make a few course corrections. Without giving anything away, there are acknowledgements to Walker's character in Brian, but he is never shown. It is kept vague, while also introducing many new characters (namely Scott Eastwood) to fill the void. There are moments that seem as though the character of Brian may be dead, but many that also insinuate that he is off living a happy life with his family. I quite enjoyed this aspect, due to the fact that is can be seen both ways, keeping his absence tasteful. The newcomers in Scott Eastwood, Helen Mirren, and a few returning characters were all welcome additions in my opinion. This franchise has always wanted to go as far as possible from its street racing roots. It has an overwhelmingly new-found success with its heist and over-the-top action sequences, that I fear it will never return. The best thing it has done in this regard is at least include one race sequence in each film, to keep all fans happy. Of the new generation of films in this franchise, I believe The Fate of the Furious may just have the best one yet. Truly going back to its roots, this film begins with a race that average viewers can have a blast with and the classic fans will be eating up. Since Fast Five, the macho aspect of Dwayne Johnson's Luke Hobbs, comedic interaction between the rest of the crew, and the over-the-top action sequences are truly what makes this film hundreds of millions at the box office. Yes, having the family aspect is what grounds these films in reality in between set pieces, and this film may just have the darkest moments in terms of family to date. Fans definitely receive all of the above and more throughout The Fate of the Furious, but to be perfectly honest, you have to watch these films as if you are sitting in the theatre watching a Marvel film. There are just too many unbelievable things to really latch onto anyone here. I've immensely enjoyed almost every film up until this point, and even I believe the action is at its peak. I am actually a defender of this over-the-top action, but I don't think they should be going any bigger than this, because they may just begin to lose their fan base. If the reality of these films are what made them as popular as they are, this film would've received a failing grade from me, but at this point, if you aren't up for anything, then you simply shouldn't be watching this series anymore. The family aspect is still very much present, they are doing their best to make up for clear absences in their family, the action is as fun as ever, and the dialogue is as cheesy and laughable as ever. You'll either embrace it and love where this franchise is headed or find yourself cringing and wishing that Furious 7 should've been the conclusion. The way I now see it is that Brian has moved on from this lifestyle and Furious 7 ended a chapter in the never-ending novel that seems to be Fast & Furious. This film will not win anyone over who hasn't seen the original seven films, but hardcore fans will eat it up and appreciate the nods and twists throughout. Although it's scarily close to jumping too far over the shark, it hasn't quite done it yet. If you are a fan, I definitely recommend going to check out this bombastic addition to the franchise. It's the darkest, most ridiculous chapter in the franchise, but also has some of the most fun sequences and emotional moments. The final sequence of this film made me feel something that I didn't think I would when going into this film, but I found myself pleasantly surprises. I'm a sucker for these films, so I will probably rate it higher than most, but for what it's trying to accomplish, The Fate of the Furious is pure blockbuster entertainment. For that, it gets the job done wonderfully.
The Fate of the Furious Quotes
There are no approved quotes yet for this movie.
Discussion Forum
Discuss The Fate of the Furious on our Movie forum!