The Flying Swords of Dragon Gate
(2012)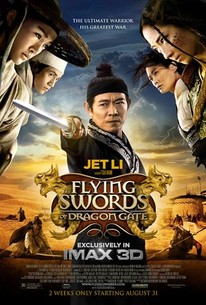 The Flying Swords of Dragon Gate Photos
Movie Info
As one of the defining stories of the wuxia genre, the saga of the Dragon Gate Inn has already been the source material for two classic martial arts films. Now legendary writer/director/producer Tsui Hark revisits these legends in The Flying Swords of Dragon Gate bringing new characters and ancient conflicts to life through the vivid depth of 3D and the epic scale of the IMAX image. The film picks up three years after the disappearance of the enigmatic innkeeper Jade and the massive fire that consumed the Inn. A new Dragon Inn has risen from the ashes, staffed by a band of marauders. Masquerading as law-abiding citizens by day, they use the cover of night to continue their true calling as fortune hunters. For legend says that the Dragon Inn is the site of a lost city buried in the desert--and a treasure that spans dynasties hidden deep within. -- (C) Indomina
News & Interviews for The Flying Swords of Dragon Gate
Critic Reviews for The Flying Swords of Dragon Gate
Audience Reviews for The Flying Swords of Dragon Gate
½
At the end of the Ming Dynasty, the eunuchs are overcompensating in their thirst for power as they seek to crush their enemies. In order to keep them in check, the civil service employs Zhao Huai'an(Jet Li) to stop their reign of terror, and is successful when they try to execute some of the opposition. When Yu Huatian(Kun Chen) tries to kill women who might be carrying the emperor's child as a favor for a concubine, Su Huirong(Mavis Fan) makes good her escape from the palace. She only makes it as far as a ferry until she is intercepted by soldiers. But luckily she is rescued in the nick of time, not by Zhao, but by a woman using his name... While one could normally think of Tsui Hark's movies as busy, "Flying Swords of Dragon Gate" takes it to a lesser level with its shoddy special effects. Its convoluted story not only includes the above intrigue but also all sorts of other business including a treasure hunt and at least one case of mistaken identity. The movie might have had a chance if it started with desperate characters at a barren outpost trying to outwait a killer storm but it takes too long to get there and then occasionally loses its way amongst so many other details.
The plot to this film isn't that important, unfortunately, too many of the action scenes use CGI to the point that it undermines the hard work of the martial artists themselves. Obviously this was done to aid the 3D effects, but it also jumps from impressive men on wires Wuxia work, to cartoonish looking visuals. The film is filled with likable characters, although the complexity of their different backgrounds and the backstabbings and twists gets a little convoluted at times. Perhaps watching Hark's Detective Dee put me in the mood for a fun and frolicking adventure with incredible action, instead it was enjoyable, but just didn't push the boundaries.
Luke Baldock
Super Reviewer
When Tsui Hark incorporates 3D with Wuxia, Flying Swords of Dragon Gate is the outcome.
As far as the main plot-line goes, it is anything but epic; however, when the subplots kick in and all the characters fall into place, this film ends up as one entertaining action adventure. That isn't to say that there is masterful storytelling going on, but quite a bit does transpire in nearly 2 hours of screen time.
The martial arts is highly stylized and fast paced. The use of CG on the other hand is a mixed bag, but not a movie destroyer by any means. It is used visually to further enhance the action sequences, as well as the 3D. There are tons of objects flying in every direction, all the while the characters perform magnificent flips and jumps across the screen.
There are numerous characters to put up with and even Jet Li ends up getting pushed to the background for a good stretch of the picture. This isn't a problem, especially with the likes of Zhou Xun, Kwai Lun-mei, and Li Yuchun holding the reigns and dishing out some pain.
Flying Swords of Dragon Gate is more outlandish than it is epic or dramatic. It entertains.
The Flying Swords of Dragon Gate Quotes
There are no approved quotes yet for this movie.