The Ghost
(2000)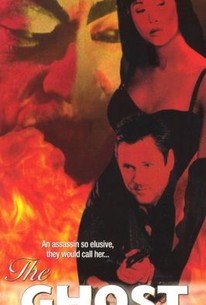 AUDIENCE SCORE
Critic Consensus: No consensus yet.
Movie Info
A rivalry between two career criminals leads to a chase across two continents in this action thriller. Jing (Chung Lai) is a beautiful but deadly Chinese hit woman who, after being abandoned as a child, was adopted by the Tong, the Chinese organized crime syndicate to whom she has sworn lifelong allegiance. A dispute between Jing and criminal overlord Chang (Cary-Hiroyuki Tagawa) leads Chang to swear vengeance by killing off the members of Jing's Tong faction. With nowhere to hide at home, Jing escapes to the United States posing as an Asian mail-order bride, but when Chang learns she's fled to America, he hires Dan (Michael Madsen), a ruthless bounty hunter whose need for a pay day outweighs his scruples. The Ghost also stars Brad Dourif, Richard Hatch, and Louis Herthum.
Critic Reviews for The Ghost
There are no critic reviews yet for The Ghost. Keep checking Rotten Tomatoes for updates!
Audience Reviews for The Ghost
½
Dear, oh dear. Quite an awful film. Michael Madsen and Brad Dourif have trouble keeping straight faces at the preposterous lines, Cary-Hiroyuki Tagawa resurrects his role from Showdown in Little Tokyo, Richard Hatch from Battlestar Galactica makes a fool of himself, and lots of the fights look stunt-doubled. On the other hand, Madsen's two assistants make an entertaining double act, and the guy in the wheelchair kicked some ass, despite not having any legs. Nice! I really should have known better than to rent this, but the cast looked good. Ah well, better luck next time.
Cassandra Maples
Super Reviewer
The Ghost Quotes
There are no approved quotes yet for this movie.