The Girls in the Band
(2013)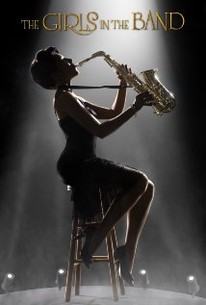 The Girls in the Band Photos
Movie Info
They wiggled, they jiggled, they wore low cut gowns and short shorts, they kowtowed to the club owners and smiled at the customers...and they did it all, just to play the music they loved. THE GIRLS IN THE BAND tells the poignant, untold stories of female jazz and big band instrumentalists and their fascinating, groundbreaking journeys from the late 30′s to the present day. These incredibly talented women endured sexism, racism and diminished opportunities for decades, yet continued to persevere, inspire and elevate their talents in a field that seldom welcomed them. Today a new breed of gifted young women is taking their rightful place in the world of jazz which can no longer deny their talents. (c) Official Site
Critic Reviews for The Girls in the Band
Audience Reviews for The Girls in the Band
I saw this at the Cleveland International Film Fest 2012 and had to buy the DVD from Judy Chaikin who was there to answer questions after the screening. Informative and fun doc filled with lots of big band/jazz music. Chaikin begins the movie with a famous group portrait of all the big name jazz musicians living in the '50s. Only three women are included and two are identified. This music doc uncovers the fact that there were many more women who were jazz musicians, but so many have been forgotten. It was okay for women to be vocalists or pianists, but women faced many obstacles if they wanted a career playing brass, sax, drums, or other instruments. This doc looks at sexism and racism. It examines nearly a whole century in the history of female jazz musicians with graphics that suggest an old photo album. In the 20s through the 40s The International Sweethearts of Rhythm are given special focus. In the post-WWII years, things reverted to rampant sexism. A few women who achieved some success as jazz soloists and arrangers are highlighted. Then following the feminist movement, beginning in the mid-70s, the Kansas City Women's Jazz Festival and a new generation of women jazz musicians are celebrated. In the end, the photo from Harlem '58 is recreated in front of the same brownstone with a few survivors and dozens of girls from jazz bands. This movie has whetted my interest in jazz!
Byron Brubaker
Super Reviewer
The Girls in the Band Quotes
There are no approved quotes yet for this movie.