The Great Happiness Space: Tale of an Osaka Love Thief
(2006)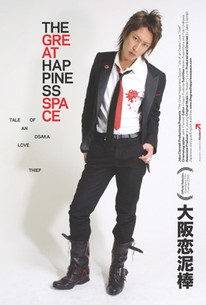 AUDIENCE SCORE
Critic Consensus: No consensus yet.
Movie Info
With his nonfiction film The Great Happiness Space: Tale of an Osaka Love Thief, neophyte documentarist Jake Clennell probes the contemporary phenomenon of Japanese "host bars" - or upper-crust clubs where wealthy female clients buy the affections of handsome, twentysomething male escorts. As an illustration of this concept, Clennell devotes the entire running time of the film to an exploration of Café Rakkyo, the most lucrative such club in Osaka Japan. The visit yields dispiriting glimpses of self-perpetuated delusions - such as the female client who insists that she can keep spending increasingly exorbitant amounts of money until she "buys" the lifelong love of her favorite host, and the male entertainers who succeed at their job by forcing themselves to take full advantage of a woman's innocence, gullibility and naïveté. Clennell also underscores, with great poignancy, the extreme emotional turmoil taken by this profession on both employees and patrons. Clennell's greatest observed irony is simply the fact that most of the women are, themselves, prostitutes. In the grand tradition of cinema direct Clennell relegates himself to pure observation, carefully refraining from intrusive value judgements or intervention of any kind, and allowing viewers to draw their own conclusions about the participants' onscreen lifestyles. ~ Nathan Southern, Rovi
Critic Reviews for The Great Happiness Space: Tale of an Osaka Love Thief
There are no critic reviews yet for The Great Happiness Space: Tale of an Osaka Love Thief. Keep checking Rotten Tomatoes for updates!
Audience Reviews for The Great Happiness Space: Tale of an Osaka Love Thief
½
Another fascinating, and ultimately a very sad and disturbing look, at the life of the men who work at host clubs and the women who are their regular costumers. That's probably the most striking thing about the movie itself, just the lives these people lead and how they deal with it emotionally. Realistically, this kind of life must be hard if you'd wish to have a real relationship what with the constant lying that's involved with this job. You get to see how Issei sort of deals with being tired of a job but having to do it because it's all he knows and not being able to really emotionally connect with people who he's paid to pretend to be in love with. There's also a great irony in that most of the costumers that the hosts receive, at least in this club, are prostitutes themselves. There's also a really creepy, and ultimately very sad, woman who simply spends all her money on Issei, even though she admittedly goes to other host clubs, because he is an investment. Almost as if he were an object. Granted, even thought they're paid to be what a girl wants, it can also be pretty sad to have a life where you're so lonely you pay someone to lie to you and create this fantasy that you want to achieve. Certainly of all the women that were interviewed, the one who thought of Issei as an investment was by far the most disturbing and emotionally damaged. Again, I found this to be a very fascinating movie that's actually sadder than it lets on. It's definitely worth a watch.
Jesse Ortega
Super Reviewer
½
a strange, fascinating and ultimately tragic look at various levels of the japanese sex industry. it's not pornographic but it is disturbing. and very well done. highly recommended for anyone interested in japanese culture...or odd documentaries
Stella Dallas
Super Reviewer
Disturbing look at the Japanese host clubs and the messed up hosts and clients. Horrifying look at peoples search for happiness.
Christopher Brown
Super Reviewer
The Great Happiness Space: Tale of an Osaka Love Thief Quotes
There are no approved quotes yet for this movie.