The Haunting in Connecticut 2: Ghosts of Georgia
(2013)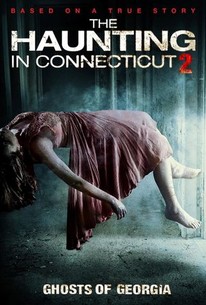 The Haunting in Connecticut 2: Ghosts of Georgia Photos
Movie Info
Building on the terror of A Haunting in Connecticut, this horrifying tale traces a young family's nightmarish descent into a centuries-old Southern hell. When Andy Wyrick (Chad Michael Murray, House of Wax) moves his wife Lisa (Abigail Spencer, TV's "Mad Men") and daughter Heidi to an historic home in Georgia, they quickly discover they are not the house's only inhabitants. Joined by Lisa's free-spirited sister, Joyce (Katee Sackhoff, TV's "Battlestar Galactica"), the family soon comes face-to-face with a bone-chilling mystery born of a deranged desire...a haunting secret rising from underground and threatening to bring down anyone in its path.
Critic Reviews for The Haunting in Connecticut 2: Ghosts of Georgia
Audience Reviews for The Haunting in Connecticut 2: Ghosts of Georgia
Sequel to The Haunting in Connecticut is yet another unimpressive, bland sequel that doesn't add anything new to the first film. The ideas here are strained, and it's just another one of those films that was made to make more money, without any concern of creating something truly terrifying and atmospheric. This is a forgettable film, one that has a poor cast of actors that really don't have any screen presence and seem bored in their parts. The film is dull and unimpressive. The film lacks depth, and the scares are nonexistent. There is no effort put into this film, and it's a shame because like the first one, this film had the opportunity of being a very good film, instead it wastes its potential on cheap scares that don't work whatsoever. This film is awful, and it is a lacking film in terms of horror material, and it just threads old ideas that we've seen many times before. Like Its predecessor, this film just doesn't have the goods to really be a great horror film. Don't go into this film expecting anything great, it's a waste of time. The film is just garbage, the sheer lack of creativity is apparent throughout, and overall it's a prime example of how not to make a horror sequel. I really don't know why they made a follow up, it was unnecessary as the first film was forgettable. This follow up is just boring and uninteresting, if you've seen the original, then skip this one as it never is anything truly engaging or memorable for that matter. In fact, this is lazy filmmaking, and the filmmakers clearly can't make something to really capture the viewer's interest, and the filmmakers rely too much on predictability and old ideas that makes this film pretty bad.
Has all the makings of a traditional horror story but falls to even give you a thrill. Enjoyed the first one which was creepy but this fails to impress.
Film Crazy
Super Reviewer
MisterYoda ?
Super Reviewer
The Haunting in Connecticut 2: Ghosts of Georgia Quotes