The Hitch-hiker
(1953)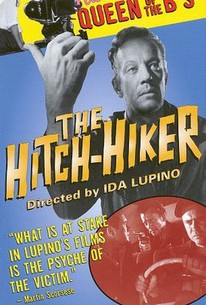 Movie Info
Two men on a fishing trip pick up a psychopathic fugitive with an intense hatred of humanity in this relentlessly suspenseful thriller directed by Ida Lupino and written by Daniel Mainwaring (Invasion of the Body Snatchers). Ray Collins (Edmund O'Brien) and Gilbert Bowen (Frank Lovejoy) are on their way to a relaxing weekend on the lake when they make the fateful mistake of giving a ride to Emmett Myers (William Tallman), a ruthless killer on the run from the cops. As a young child Myers was severely abused, and now he's determined to make the world suffer for the atrocities committed against him. An unrepentant sadist, Myers repeatedly uses his faulty eye (which is permanently open) to trick his two terrified victims into believing they have gained the upper hand in the tense stand-off, only to turn the tables on them at the last second. Inspired by the horrific crimes of real life mass murderer William Cook, who was eventually executed in San Quentin.
Critic Reviews for The Hitch-hiker
Audience Reviews for The Hitch-hiker
½
A pretty good movie, but it could be better, especially now that there have been so many other movies like this one.
½
Great little Thriller by the only female directors of Hollywood's Golden Age, Ida Lupino. It starts out amazingly and then sort of peters out toward the end, but overall very enjoyable.
Ken Stachnik
Super Reviewer
Hitch-hiker starts off really great with an incredible opening. Lupino's a great director and I wish she did more. The acting is great, namely Talman who makes you flat-out despise him. He's no Rutger Hauer, but this is more disturbing on a realistic level. Ultimately, it's good and not great, but definitely worth checking out.
Michael Gildea
Super Reviewer
The Hitch-hiker Quotes
There are no approved quotes yet for this movie.