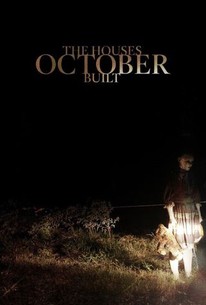 The Houses October Built
2014, Horror, 1h 31m
15 Reviews
500+ Ratings
Where to watch
Rent/buy
Rent/buy
Rent/buy
Rate And Review
The Houses October Built Photos
Movie Info
Friends (Brandy Schaefer, Mikey Roe, Jeff Larson) encounter genuine horror during a road trip to visit haunted houses.
Audience Reviews for The Houses October Built
I honestly wanted to like this movie. As far as found footage horror films go, this was probably the one that used the concept most effectively since, probably, the first Paranormal Activity. Then again there's also Afflicted which, overall was a better found footage horror film. But I think as far as using the style of found footage, this movie did so more effectively than many others. The idea of this group of people going around various haunted houses around Texas and interviewing people who operate these haunts was actually a pretty good one. And I say that because, as far as I can tell, the interviews they did with people who operate, or went to these haunts, were legit. And I believe that gives an air of authenticity to what is, otherwise, a fairly standard horror film. They tackle some pretty interesting subjects such as how far some of these people go to scare people and worries about what type of people are employed at these places. This is all perfectly reasonably thought out. So basically the film is this group's journey to find the most extreme haunt they possibly can while pissing off, at least, one person to each place they go to. So as the film progresses, the various 'scare actors' they meet and piss off start to follow them and strange goings-on occur. Ok this all sounds fine and dandy. Where the film falters, and I do mean falters, is the fact that the pacing of this is so goddamn terrible. I don't wanna say that this is like At the Devil's Door, in that it stretched out a 45 minute film into 90, but there should've definitely been some cuts here and there to ensure that the film would not drag as much as it did in some parts. The movie did build up tension quite well, with each haunt this group goes to adding to the 'scare actors' that follow them throughout their journey. I will say, however, that the whole 'backwoods hillbilly redneck' shit is already well played out honestly. I suppose it makes for a better and more intriguing "story" since there's still that thought process in people's minds that some weird and strange shit goes on in the backwoods. Which I'm sure it does, but strange and weird shit also occurs in the cities. I get why they did it, but it's a little cliched. I digress, however, the film's pacing left a lot to be desired honestly. Cut 10 minutes off of this and you have a good movie on your hands, at least by my calculation. There are some instances where you're wondering why there's a particular scene in the film, as it seems to serve no purpose other than to needlessly make the film longer. For purposes that I'm completely unfamiliar with It's certainly not nearly as bad as At the Devil's Door was, thankfully. The film's last 15 or so minutes are absolutely excellent actually. Of course they do not make it clear as to whether or not what happened was a really extreme haunt or whether or not they did kill the group. I suppose, looking at the beginning of the film, that this would be the latter. Since it is essentially said, at the beginning, that the group hasn't been seen again. But it still feels like a cheap ending to me. There's some films where this type of ending works because it brings about some pretty damn cool fan theories. In some cases it's just because they couldn't end the film in an adequate fashion, so they took the cheap way out. If I were to rate its cheapness on a scale of 1-10, I would honestly give it a 4. It's not really that bad, since you can put two and two together, but it's still a little irksome. With that said, the climax was definitely excellent. It's just a shame that the film was so poorly paced. Had it flowed better, this would've been an easy 3 stars. I have no doubt about that. Even with that, I enjoyed this. It's certainly not close to perfect. But it offers an enjoyable diversion and serves as proof that, if used correctly, the found footage genre can definitely work as far as getting effective scares.

This very intriguing idea for a roadtrip horror ends up little more than an advertisement for various haunted houses across the US.Poor acting runs the tired premise of found footage horror in to the ground.
See Details