The Human Centipede III (Final Sequence)
(2015)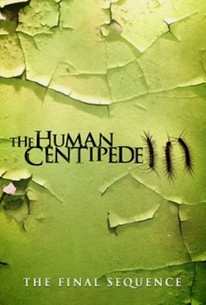 TOMATOMETER
AUDIENCE SCORE
Critic Consensus: Human Centipede fans may find enough extreme body horror in the third installment to satisfy, but filmgoers of every other persuasion are strongly advised to stay far, far away from Final Sequence.
The Human Centipede III (Final Sequence) Photos
Movie Info
Tom Six grosses out film-goers once again with this third entry of the Human Centipede series, with returning stars Dieter Laser and Laurence R. Harvey banding together as a new villainous duo aspiring to connect over 500 human bodies together. ~ Jeremy Wheeler, Rovi
People Who Like this movie also like
News & Interviews for The Human Centipede III (Final Sequence)
Critic Reviews for The Human Centipede III (Final Sequence)
Audience Reviews for The Human Centipede III (Final Sequence)
Ojala los padres de Tom Six no se hubieran conocido para evitar que naciera y así evitar que creara una de las franquicias mas atroces, mas horribles y asquerosas en la historia. Es una verdadera vergüenza para el cine. No la vean ni estando drogados. Es lo peor de lo peor.
Fernando Martínez Cantú
Super Reviewer
Tom Six has no idea what structure, pacing or taste is, and he clearly wanted to make the vilest piece of garbage ever - which it is safe to say he accomplished -, although it would have been cheaper and more effective for him to look for therapy instead. (Zero stars)
Carlos Magalhães
Super Reviewer
Sometimes as a critic I seek out the worst of the worst so you don't have to, America. And you really owe me big time for sitting through all 100 torturous minutes of the regretful-in-every-aspect horror... "comedy," Human Centipede 3: Final Sequence. I'll confess that horror is a genre I've grown to enjoy and I genuinely liked the first Centipede film, finding its premise near ingenious and that writer/director Tom Six developed his horror grotesquerie in a way that turned it into an accessible survival thriller with some gonzo edges. The sequel was pretty repulsive and the third film, with the hopeful promise of being the "final sequence," is even worse. This is a horrifying endurance test not unlike Tom Green's abysmal lone directorial affront, Freddy Got Fingered. It is that bad. Scenes just seem to go on and on and exist for no purpose. It's like Dieter Laser was just told to do whatever he wanted as long as he yelled as loud as he could and based his performance after the Looney Tunes cast. It's cheap vulgarity masquerading as edgy provocation; it's transparently lazy and insufferable. It's not funny no matter how weird or loud or garish or bloody or dumb it gets. The premise is basically an insane prison warden (Laser) is going to create his own human centipede, the biggest ever, linking over 100 inmates. Ignoring the escalation of all the Centipede sequels, it's a facile plot device and it doesn't even happen until the very end. Until that awful reveal, you will have to endure, no a better word is survive, extended "comedy" bits like Laser sticking his tongue out and roaring in orgasm while his secretary (Bree Olsen) is forced to felate him while others are in the room. The movie is trying so hard to be shocking and irreverent that you can see all the pained efforts. It's tedious and boring. Human Centipede 3 is 100 minutes of pathetic flop sweat that could more or less end with the throwaway punchline, "The Aristocrats!" Nate's Grade: F
Nate Zoebl
Super Reviewer
The Human Centipede III (Final Sequence) Quotes
| | |
| --- | --- |
| Inmate 233: | All right,I'll do it! But I get to be the mouth! |
| Inmate 233: | All right, I'll do it! But I get to be the mouth! |
Discussion Forum
Discuss The Human Centipede III (Final Sequence) on our Movie forum!