Incredibles 2
(2018)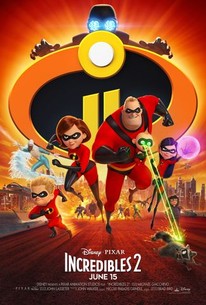 TOMATOMETER
AUDIENCE SCORE
Critic Consensus: Incredibles 2 reunites Pixar's family crimefighting team for a long-awaited follow-up that may not quite live up to the original, but comes close enough to earn its name.
Movie Info
Everyone's favorite family of superheroes is back in "Incredibles 2"--but this time Helen (voice of Holly Hunter) is in the spotlight, leaving Bob (voice of Craig T. Nelson) at home with Violet (voice of Sarah Vowell) and Dash (voice of Huck Milner) to navigate the day-to-day heroics of "normal" life. It's a tough transistion for everyone, made tougher by the fact that the family is still unaware of baby Jack-Jack's emerging superpowers. When a new villain hatches a brilliant and dangerous plot, the family and Frozone (voice of Samuel L. Jackson) must find a way to work together again--which is easier said than done, even when they're all Incredible.
News & Interviews for Incredibles 2
Critic Reviews for Incredibles 2
Audience Reviews for Incredibles 2
½
Hype might hurt it but Incredibles 2 is a solid and rousing Pixar sequel. Full review soon. Rating: 89
½
Pixar has been a company that everyone cherishes. From their classics like Toy Story and Monsters Inc., to even their solid attempts at sequels in Monsters University and Finding Dory, their heart is and always has been in the right place. The reason I don't include Cars in this discussion is simply due to the fact that the sequels were only made to make the studio sell more merchandise. I don't fault them for that, because their original content is usually always stellar. The Incredibles was a film that was beloved by the majority of audiences around the world and it left people wondering why a sequel wasn't being made. Incredibles 2 has been long overdue for fans and there was almost too much hype to really live up to it for some. Personally, although I don't think this sequel surpasses the original in any way, it sure does live up to the hype in my opinion. Here's why I believe this movie delivered on all fronts. Picking up immediately after the events of the first film, this film can easily be viewed as an extension of the original, rather than a sequel. The seamless transition between films was flawless in my opinion. The world still believes that superheroes are a potential danger to the world, so Helen is taken away to help prove their innocence and to reinstate their relevance once again. This ends up leaving Bob with a task he really doesn't want all that much; taking care of the kids. Having to deal with his baby (Jack-Jack) having very special abilities, this causes a lot of stress in his life, but also a lot of laughs for the audience. Helen's storyline is very solid and makes for some great additions in terms of storytelling, but this is where the film doesn't quite get to the standards set by the first movie. Yes, Bob taking care of the kids is cute, Dash and Violet (his older kids) both have amazing times to shine is incredible (pun intended), and Jack-Jack's misadventures are show-stealing moments of hilarity, but I found myself a little tied down by the drama involving Helen. Her storyline exists in order to further the plot of the villain, which is completely fine, especially in a film made for a younger audience, but there were times that felt slightly predictable and bogged down the film a little. That being said, the pacing and cutting back and forth between these two storylines are really the only complaints I had about this movie. I personally think the first movie is near-perfect, so this is why I can't quite say I loved it as much as its predecessor. Where Incredibles 2 does make things a little more interesting is in its surprises and heart. There is plenty of action/espionage throughout the movie to keep fans entertained, but the backbone of the movie is reversing everyone's role in comparison with the first movie and it really did add a layer that I felt authentic, which I was expecting to feel forced. The pacing in the middle of the movie is saved by a fantastic conclusion that had me grinning from ear to ear. Some people may find this movie to be a slightly slower burn than the energetic pacing of the first, but that's simply because the story required it. Incredibles 2 is a fantastic sequel and easily one of the best follow-ups that Pixar has ever done (excluding the Toy Story sequels obviously). Personally, I think this movie was well worth the wait. It went in a few directions that I wasn't expecting it to, its themes are very relevant to today's climate and adults will definitely see where that comes into play, and the score by Michael Giacchino leaps off the screen. Very well written and directed by Brad Bird (who also helmed the original), this movie is the definition of a film that warrants its existence and proves that the people who were demanding a sequel were doing the right thing throughout the years. Incredibles 2 may not become as beloved as its predecessor, but it's still a fantastically well-done film nonetheless.
After a long-awaited-fourteen-year anticipation, the Pixar superhero-family is back and it's better than ever! A broadened narrative along with some wholehearted family humor, action and charm, Incredibles 2 may supply more punch and power than its 2004 predecessor. 4.95/5
Eugene Bernabe
Super Reviewer
Incredibles 2 Quotes
There are no approved quotes yet for this movie.