The Iron Ladies
(2001)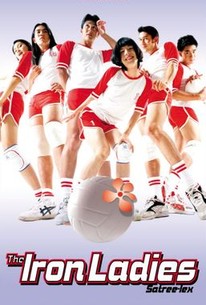 Movie Info
If The Adventures of Priscilla, Queen of the Desert were put in a blender with Hoosiers, it would probably bear a striking resemblance to Satree-Lex (The Iron Ladies), an exuberant comedy about the journey of a volleyball team composed largely of transsexuals, drag queens, and effeminate gay men to the 1996 Thai male championships. Positioned at the team's spiritual core are best friends Mon and Jun, the former of whom is a jaded transvestite, and the latter is a flamboyant drag queen with uncharacteristically supportive parents. When the provincial governor hires a butch female coach to amass a "dream team" for the national volleyball competitions, Mon and Jun are chosen for the lineup. Their selection outrages their testosterone-addled teammates, who, with the exception of one player, quit in protest. Desperate, the coach asks Mon to recruit new teammates, and in short order he summons a transsexual stage performer, a muscular army sergeant cum makeup artist, a closeted gay boy, and transvestite triplets April, May, and June. Conflict ensues, lessons are learned, team spirit is strengthened, and eyebrows are plucked. The second highest-grossing film in Thailand to date, Satree-Lex earned raves when it was shown at the 2000 Toronto Film Festival.
Critic Reviews for The Iron Ladies
Audience Reviews for The Iron Ladies
Amazing and outrageous funny true story of Thai volleyball team composed mostly of transsexuals, transvestites and some rather effeminate gay guys to the national championships in 1996. That also happened in an extraordinary true story of a Thai boxer - Beautiful Boxer.
Dean McKenna
Super Reviewer
Pretty funny, with some great quirky characters.
Anthony Valletta
Super Reviewer
The Iron Ladies Quotes
There are no approved quotes yet for this movie.