The Last Days On Mars
(2013)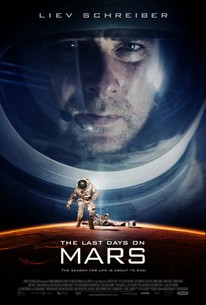 TOMATOMETER
AUDIENCE SCORE
Critic Consensus: Neither intelligent enough to work as thought-provoking sci-fi nor trashy enough to provide B-movie thrills, The Last Days on Mars proves as cinematically barren as the titular planet.
The Last Days On Mars Photos
Movie Info
On the last day of the first manned mission to Mars, a crew member of Tantalus Base believes he has made an astounding discovery - fossilized evidence of bacterial life. Unwilling to let the relief crew claim all the glory, he disobeys orders to pack up and goes out on an unauthorized expedition to collect further samples. But a routine excavation turns to disaster when the porous ground collapses, and he falls into a deep crevice and near certain death. His devastated colleagues attempt to recover his body. However, when another vanishes they start to suspect that the life-form they have discovered is not yet dead. As the group begins to fall apart it seems their only hope is the imminent arrival of the relief ship Aurora. (c) Magnolia
People Who Like this movie also like
News & Interviews for The Last Days On Mars
Critic Reviews for The Last Days On Mars
Audience Reviews for The Last Days On Mars
½
Not a particularly good, or interesting, movie. It's one that's only saved by its cinematography, its score, and the cast. That's about it, because the cast is absolutely saddled with every cliche seen in horror films and poor dialogue. It has to be said, but I think this film has some of the worst character development I've seen in a while. Nobody has a discernible personality nor are they particularly likable. Doesn't help that they're also cliched as hell. Stock characters in a stock movie with a good setting. That's all this film is. It doesn't really build to anything, everything you're watching ends up feeling really pointless by the end of the film. What's the point of it all? Why are these people here? Why should I care about them? These are all questions that should be answered, but they're not. They're researching whether there's any sign of life in Mars, that much I can get. But I don't think that's enough, you could have told a thought-provoking story about the isolation of being in Mars, even if you have several characters, I think it could still work, being isolated from the world and in an unknown place, plus the stress of not accomplishing your mission as you're one day away from starting the trek back to earth. You could still have zombies in there, but it'd have been a vastly better movie if you actually added more dimensions to the story and to the characters. As it stands, this is is just a standard zombie movie set on Mars, nothing more nothing less. And I mean, essentially, there's only two real "zombies" in the film, the third and fourth ones don't really count as they're quickly disposed of. You mean to tell me that the survivors can't dispose of the first two people that were infected by the virus? Liev Schreiber himself kills three on his own, but apparently Dalby and Malko, the first two that were infected and the ones that lasted the longest in the film, were far more difficult to kill, even though I'm pretty sure they could've been taken out easily if, you know, more than two of the crew, teamed up to take them down. It seems so ridiculous to me that this would get taken as far as it did and that makes watching the film a little stupid sometimes. Use one of the members as bait for the zombies, then when the zombie is coming after the bait, another crew member sneaks up from behind and stabs him/her in the head. Seems pretty fucking simple to me. That might actually get me to bump the score down from 2 stars to 1.5. People do this in zombie films all the time, no reason they couldn't have done it here. THERE WERE TWO ZOMBIES. How hard could it really be? So, in the end, this thing got out of hand due to stupidity and ineptitude on the crew members' part. This movie definitely sucked. A+ plus idea, F- execution.
Jesse Ortega
Super Reviewer
This Irish, British and US co-production presented as science fiction thriller was directed by Ruairí Robinson with a screenplay by Clive Dawson, based on the short story "The Animators" by Sydney J. Bounds. Filming mainly took place in Jordan. Its small cast stars Liev Schreiber, Elias Koteas, Romola Garai, Goran Kostic, Johnny Harris, Tom Cullen, Yusra Warsama and Olivia Williams. There were no outstanding performances but all of them where pretty solid! The story of a research crew of eight inhabiting the Tantalus Base outpost on Mars was interesting but not developed in details. We witnessed the events in the last 19 hours of the six month mission which was to finish with a rendezvous with the lander Aurora, which will return them to their main orbiting craft. Nothing special was happening until the scientist Marko Petrovic (Goran Kosti?) found some samples that may point to life on the planet. Crewmate Richard Harrington (Tom Cullen) drives Petrovic, in a solar powered rover, to the spot where he had found the sample... and the tragedy strikes! The movie was engaging enough to create continuity of the story without creating a major drama! There are moments at the start of Ruairi Robinson's feature-length directorial debut that seemed promising... especially a spectacular footage of dust storms and an eerie strings-heavy soundtrack that creates an effective atmosphere of doom. "The Last Days on Mars" was never going to be "Gravity," but it looked like it could aspire to be something closer to the highly enjoyable found footage film "Europa Report." However, the final result was a zombie type action movie which change the whole atmosphere!
MisterYoda ?
Super Reviewer
The Last Days On Mars Quotes
There are no approved quotes yet for this movie.