The Last Lovecraft: Relic of Cthulhu
(2009)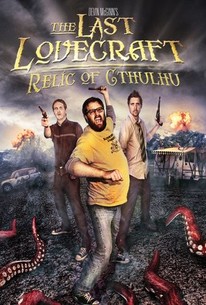 AUDIENCE SCORE
Critic Consensus: No consensus yet.
Movie Info
A desk jockey becomes a slayer of aquatic demons in this blend of horror, fantasy and comedy from director Henry Saine. Jeff (Kyle Davis) is a regular guy with a dull job in an office complex who is certain there's nothing remarkable about himself. But Jeff learns he's wrong when he's approached by an eccentric old man and told he is the last surviving relative of the great horror writer H.P. Lovecraft. That might seem interesting in itself, but there's more -- Jeff is informed Lovecraft's tales of terror weren't entirely fictional, and the Cthulhu, the evil fish-like humanoids that figured in so many of his stories, are real and poised to emerge from the sea and take over the world. Jeff is one of the few people with the proper bloodline to take on the creatures, and with the help of his buddies Charlie (Devin McGinn), an obsessive comic-book fan, and Paul (Barak Hardley), who has been a Lovecraft authority since high school, Jeff and monster hunter Captain Olaf (Gregg Lawrence) set out to defeat the Cthulhu while humanity still has a fighting chance. The Last Lovecraft: Relic of Cthulhu was an official selection at the 2010 Slamdance Film Festival.
Critic Reviews for The Last Lovecraft: Relic of Cthulhu
All Critics (2) | Fresh (2) | Rotten (0) | DVD (2)
Most assuredly a farce first and a monster movie second.
Its mix of Bill & Ted-style buddy banter and the Roger Corman produced Humanoids From The Deep (1980) makes for a crisp, crackling 79 minutes.
Audience Reviews for The Last Lovecraft: Relic of Cthulhu
½
** out of **** "The Last Lovecraft: Relic of Cthulhu" is for those manly men out there who - aside from being ever so manly - also happen to dig comic books and classic horror literature. You can tell everything by the name and by the premise; indeed, this is sort of homage to the works and creations of H.P. Lovecraft, faithful to its influences and respectable enough at that. It knows what it wants to be; a road-buddy movie made specifically for a male audience (since, as I recall, there were like two females in the entire thing, both in minor roles) with beasts from the deep popping up from time-to-time to remind us that this isn't just another run-of-the-mill exercise in the horror-comedy genre. That director Henry Saine and writer-producer-star Devin McGinn have such ambitions is enough for me to respect the flick; but at the same time, the great ideas behind this film-that-could-have-been are what make it so difficult for me to be the bearer of bad news, in that the finished product just isn't all that good. Best friends Jeff (Kyle Davis) and Charlie (Devin McGinn) work boring-ass cubicle desk jobs at a company called Squirrely Squirrel Gift Baskets. When on the job, they are uninspired and fidgety; finding amusement in pissing off their boss. When at home (the two share an apartment); they are a couple of comic book nerds. One day, an elderly man breaks into their home and informs Jeff that he is the last living relative of horror literature pioneer H.P. Lovecraft's bloodline, and that the Cult of Cthulhu is active yet again and attempting to free Cthulhu himself (perhaps the most popular of H.P. Lovecraft's creations). To do so, the "Star Spawn" must unite all the proper pieces of the titular relic, although the one piece he doesn't have is the one that the old man gives to Jeff. Frantic, the two are on the run, unsure of what to do. Then, Charlie remembers an old high school acquaintance named Paul (Barak Hardley) who still lives with his grandmother, is still quite overweight, and still loves Lovecraft. After they prove to him that the relic is the real deal, Paul agrees to accompany Jeff and Charlie on their quest. But Paul admits that he's not quite the expert on the real-life implications of the universe and monsters that Lovecraft once envisioned; that man would be an old sea captain named Olaf, who we learn lives in his RV somewhere out in the desert. He shares with us his compelling tales of fish rape, and dreams of turning a "deep one" that he captured into a freak-show attraction to make some extra profit. But the trio must protect the relic, for the Star Spawn and his minions - the Great Old Ones - are never far behind wherever they may carry it. Apparently, they've got people everywhere. Whether you enjoy this film or not will probably depend on just how familiar you are with Lovecraft's "Cthulhu Mythos". I am aware of it, but I'm not one of its loyal followers; although I do know a few who are. It's a popular universe indeed, and the filmmakers try their best to explore it on a limited budget without insulting the fellow fans. But therein lies the biggest problem; the budgetary restraints of the thing. This project would have been better off if the filmmakers handling it had access to great creature effects and costumes. I would also suggest that the filmmakers had taken some time to develop their skills in the fields of screenwriting and editing. The film looks pretty good for something low budget, but it lacks consistency in a lot of scenes; and due to this, some of the acting feels wooden and the humor will often fall kind of flat. But then again, it's only half as funny as it wants to be in the first place. "The Last Lovecraft" gets big laughs, mostly from the quirky characters that the protagonists encounter along the way to their destination - such as a creepy motel owner named Jimbo (Harry Karp) who makes awkward sexual advances on Jeff in one particularly hilarious scene - and Paul is an absolute riot (since Hardley plays the epic geek role VERY convincingly). However, the film too often confuses cheap vulgarity for something more clever and genuine. There's a big old heart somewhere underneath this film, but the crude humor doesn't work and neither do most of the buddy movie tropes. Therefore, you've got a movie that flops like a dead fish and refuses to die for about 80 minutes or so. That's enough for it to be endurable - and any movie that has its pleasures certainly is - but I cannot recommend it for the reasons stated. I see a bright future for the director and a lot of these actors; although sadly, this isn't the kind of movie that really gets you anywhere if you're looking to kick-start a successful career.
Ryan Marshall
Super Reviewer
½
Well intended but its low budget becomes clearly apparent by the time the lackluster third act limps around and more annoyingly it just tries too hard to be funny. There's also the giant liberties taken with Cthulhu's origins but meh, no one ever gets that right except 2005's Call of Cthulhu.
A.D. Villarreal
Super Reviewer
The Last Lovecraft: Relic of Cthulhu Quotes
There are no approved quotes yet for this movie.