The Legend Is Born: Ip Man (Yip Man chinchyun)
(2010)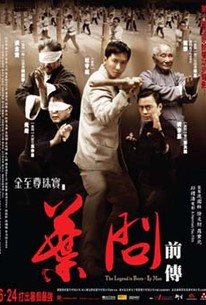 AUDIENCE SCORE
Critic Consensus: No consensus yet.
The Legend Is Born: Ip Man (Yip Man chinchyun) Photos
Movie Info
Yu-Hang To stars as famed martial arts master Ip Man in this biographical drama from director Herman Yau (The Untold Story, Taxi Hunter). Growing up, Ip Man, his adopted sibling Ip Tin-chi, and their friend Ng Chung-sok studied Wing Chun under famed master Chan Wah-shun. Later continuing his lessons with Ng Chung-sok, Ip man ultimately set his sights on Hong Kong while developing an innovative new form of the popular martial art under Leung Bik. Later, after enduring many great hardships, Ip Man returns to his hometown and falls in love with Cheung Wing-shing -- the daughter of a prominent Foshan politician - leaving lovelorn Lee Mei-wai open to marry Ip Tin-chi. Ip Man's perceived integrity takes a big hit, however, when he is arrested for murdering Lee Mei-wai's godfather, and must fight to prove his innocence.
Critic Reviews for The Legend Is Born: Ip Man (Yip Man chinchyun)
Audience Reviews for The Legend Is Born: Ip Man (Yip Man chinchyun)
½
Now I've the other two Donnie Yen Ip Man movies and decided to checkout what often's called Ip Man 0. If you've seen the other two Donnie Yen movies everything here will seem like downgrade. The Legend Is Born: Ip Man is about Yip Man's resistance against invading foreigners, along with his romantic relations while under the tutelage of three Wing Chun masters. Everything in this movie never felt effective nor was interesting. The plot is all over place and tries to handle to much plot with no success. It attempts to tell something significance of the early years of Yip Man life, except the movie will leave little impact on you when it's over. The characters never developed, there is plenty of weak plot points, and there's even Ninjas in the mix. The subtitles also keep messing up Ip Man name, you spell it Ip Man not Lp Man. The cast do a decent job in their roles, except Dennis To who tried to hard to look like Donnie Yen. The fight scenes are nice to watch, but they're pretty standard stuff. The fight scenes are also more over the top and none of them really stand out in any way. So overall everything feels downgraded and inferior to the Donnie Yen Ip Man films. The Legend Is Born: Ip Man is a forgettable Martial Art film that's not worth your time. It's not a good Ip Man movie and you won't miss anything if you don't watch it.
Caesar Mendez
Super Reviewer
Another great Ip Man movie but this time it seems to focus more on the storyline than the kung fu itself. Despite that the film is still great to watch and the fighting is as you would expect, superb. The only downside to it is that the concentration on the storyline shows for a weaker plot but we all know that the martial arts is the star, and so, in that respect, this film still beats the majority of martial arts films out at the moment or since.
Ian Walker
Super Reviewer
The semi-fictional biopic of Ip Man continues, this time chronicling Ip Man's formative years in this prequel Ip Man film. Interesting story of his life what I can see the love triangles and plot of a Japanese spy. On the other hand, newcomer Dennis To is a Wing Chun champion in Hong Kong and is not an actor by background. He might lack acting prowess but he more than makes it up in Wing Chun abilities. I was surprised to see Ip Man's real son Ip Chun appeared in this film as the elderly but sprighty Leung Bike who teaches Ip Man a thing or two about his brand of Wing Chun. The Wing Chun sparring scene between Ip Chun and Dennis is a masterpiece, so was the sparring between Sammo Hung and Yuen Biao. Incidentally, both Sammo and Yuen Biao are older pupils from the same master as Donnie Yen, so they are 'colleagues'.
Dean McKenna
Super Reviewer
The Legend Is Born: Ip Man (Yip Man chinchyun) Quotes
There are no approved quotes yet for this movie.