The Legend of Ben Hall
(2016)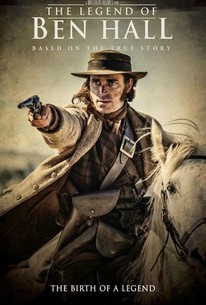 The Legend of Ben Hall Videos
The Legend of Ben Hall Photos
Movie Info
After two years on the run, bushranger Ben Hall considers surrendering to the law when his old friend John Gilbert entices him back into the game. Taking on fresh recruit John Dunn, the gang rides again, and before long they become the most wanted men in the country. When they are declared outlaws, the three decide to flee forever. As Hall seeks to make peace with his tortured past, a trusted friend becomes an informant. The law sets a cunning trap for the outlaws, and on the cold morning of May 5th 1865, Hall emerges alone from his camp... and walks into legend forever.
Critic Reviews for The Legend of Ben Hall
Audience Reviews for The Legend of Ben Hall
½
My experience watching this 'The Legend of Ben Hall' was nothing short of being 'surreal'. Never did I think I'd see a film that had so many years of development, be incredibly authentic, insightful and entertaining for an Australian Bushranger themed film. It was such a superb effort that paid off big time! hard for me to even believe 2 years after contributing to the film's crowed funding campaign, I'd finally see a film I think has the great potential to be a modern classic. One thing for certain to really describe this film is that it's one if not the 'Finest Bush Western' of modern Australian Cinema made to date, as well as the most definitive film on based on the real life historical outlaw; Ben Hall. It's a rip-roaring yarn centered on the last 9 months of Ben Hall's life, having relaxed the life of an outlaw for a while decides to come back with his fellow gang mate in an attempt to flee Australia for California. The film's greatest strengths lie in the effort writer/director Matthew Holmes has brought to adapting history to the big screen. The writing is top notch able to bring insight and conflict to the title character (played superbly by Jack Martin), a man who's walked a dark path as being a criminal, there's a genuine sense at how his reputation precedes him. Other characters like Johnny Gilbert and John Dunn are also incredible supporting players as are all the other minor roles faithfully brought from the history books. The aesthetics, costumes and cinematography are also top notch, making the period setting of Colonial Australian bush stand out as it's own landscape full of wonder and adventure. Overall I could go on for longer, The Legend of Ben Hall is the best Australian film I've seen all year, it's a superb effort that takes viewers back in time to witness a piece of history they might of never known, it also has exciting action and insightful compelling drama that make it a film for all Australians to see as this is how our history should be presented and told.
Luke Eberhardt
Super Reviewer
The Legend of Ben Hall Quotes
There are no approved quotes yet for this movie.
Discussion Forum
Discuss The Legend of Ben Hall on our Movie forum!