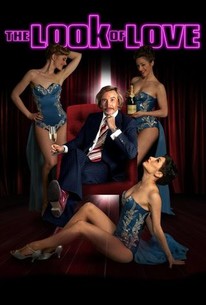 The Look of Love
2013, Biography/Drama, 1h 41m
74 Reviews
2,500+ Ratings
What to know
critics consensus
While it may not add up to the definitive Paul Raymond biopic -- or take full advantage of Steve Coogan's many gifts -- The Look of Love still proves an entertainingly old-fashioned look at the Swinging London of the 1960s. Read critic reviews
Rate And Review
Movie Info
Paul Raymond (Steve Coogan) builds a porn, entertainment and real estate empire that makes him the wealthiest man in Britain, but drugs doom his beloved daughter, Debbie (Imogen Poots).
News & Interviews for The Look of Love
Audience Reviews for The Look of Love
When I reviewed Trishna around this time last year, I remarked upon the speed at which Michael Winterbottom works, commenting that he "has better films in him, and makes them quick enough to put this disappointment swiftly behind him." The downside, however, to this pace and efficiency is that he often neglects to go into enough detail about his chosen subject matter. What was a large problem with Trishna is now an even larger one with The Look of Love, which spends more time evading its central character than it does examining him. I've long complained that biopics which attempt a grand sweep of a person's life almost always come up short. They don't all fail for the same reasons: The Life and Death of Peter Sellers structures its story in a way more suited for television; Gandhi is so overly respectful that it never lets us emotionally connect to the main character; and Shine starts off very well but eventually descends into melodrama. In each case the films are guilty of biting off more than they can chew, hobbled by a surplus of events which leaves them as a pretty, wide horizon rather than a deep, rewarding dive. The Look of Love is another biopic which suffers from this problem. It attempts to chronicle the life of publisher and club owner Paul Raymond from his humble beginnings on the late-1950s variety circuit to the death of his daughter Debbie in 1992. Covering thirty years of a person's life is a tall order regardless of the person in question, but Winterbottom never seems entirely sure of what he is interested in, or more to the point why he is interested in it. Films with a sexual subject matter have to be very clear about their intentions towards their audience. Many of the most celebrated films in this vein, such as Boogie Nights, Shame and Eyes Wide Shut, work very hard to turn their audience off, either by showing them some unrelenting underbelly to all the glamour ,or by telling their story in such a clinical manner that titillation becomes impossible. Having negated our most shallow and bestial response, they can then explore ideas surrounding sex and sexuality on a deeper level, whether the objectification of the human body, the destructive power of sex addiction, or the dangers of jealousy. It is equally possible to make a film which will arouse an audience in more ways than one, provided that said arousal is supported by a discussion of the issues that surround it. One can show a raunchy sex scene and then examine the consequences of that scene without needing to shout down its audience's desires. Ultimately, The Look of Love's approach is a reflection of the clichéd British attitude towards sex. Rather than committing either way, it sits around looking rather awkward and embarrassed, content to have the nudity but averting its gaze whenever difficult questions are asked. What results from this approach is a film with a great deal of froth and flesh but no depth to it whatsoever. You could call it gratuitous, were it not so frustrating and un-engaging that it couldn't possibly offend anyone even vaguely familiar with the human body. The film seems only interested in capturing the period look and the levels of luxury that Raymond's life reached, rather than asking all the interesting questions about what underpins such a lifestyle. It doesn't have to be scathingly critical in doing so - we just need a sense that there is a point to all this. Part of the problem with The Look of Love is that it is overly sympathetic towards its central character. Steve Coogan is a far more talented actor than many people give him credit for, and its collaborations with Winterbottom bear that out, whether it's his breathtaking Tony Wilson in 24 Hour Party People or the self-reflexive, postmodern work of The Trip or A Cock and Bull Story. This performance, however, finds both parties leaning heavily on Alan Partridge, painting Paul Raymond as a lovable figure regardless of how seedy he becomes. It's all very well gives us a central character who makes a living out of sex and doesn't come across as a complete sleazeball. But it becomes a problem when the film is so obsessed with making us like him that it dodges all the darker parts of the industry in which he engages. A typical example comes when a journalist asks Raymond if his magazine Men Only demeans women; Raymond pauses for a few seconds, and then says: "No." The film makes no real attempt to engage with any of the questions about the morality of what Raymond was doing, or the legal grey areas that surrounded his career; in the latter regard it makes even Mrs. Henderson Presents look gritty and determined. Court cases, divorces, press controversies and long-lost sons are all treated as random things that happen, which come and go like issues of his magazine. It's almost as though the film were being fast-forwarded, so you could follow the movement of a scene but not understand why what was happening was happening. The film also fails, just as damningly, to justify the darker scenes that do happen later on, involving Debbie's drug problems and the guilt Raymond feels for what happened to her. Even with the clunky wraparound, with Raymond reminiscing about his life while watching video footage, these scenes come out of nowhere and are deeply manipulative. The worst of these involves Raymond doing Debbie a line of coke while she is giving birth to her first child. What could have been disturbing for all the right reasons just comes across as offensive and exploitative. Without any real substance to speak of, all that remains of The Look of Love is its look. Winterbottom has clearly made an effort to properly recapture the look of Soho through the various time periods, and generally speaking he is successful. He is particularly adept at capturing the flimsy, trashy, tacky look of sex comedies and nude revues, which grew in popularity through the 1960s. Unfortunately, the action is so insubstantial that it ends up being marked by the changing of costumes, which draws too much attention to them. The film is a very wiggy affair, with characters going through plenty of wigs, teeth and false beards which look opulent in places but very tacky in others. Much like Mr. Nice, Bernard Rose's biopic of drug dealer Howard Marks, it's an ultimately televisual affair, compounded by the appearances of established TV stars like Chris Addison, Matt Lucas and David Walliams. The Look of Love is a frustratingly frothy affair which makes far too little from a potentially fascinating subject matter. While its attitude towards women or the sex industry is not overtly demeaning or offensive, its refusal to engage maturely with any of the issues surrounding said industry render the whole experience desperately inane. It is in the end as shallow and as empty as the club shows that it depicts, and a low point from a talented director who really can do so much better.

"The look of love is long and boring, and written very long ago; it's full of flowers and heart-shaped boxes, and things we're all too young to know." I could have referenced The Monotones' "Book of Love", and you'd figure that I would, considering that the one I just ran with came out in 1999, a couple of years after the point where I lost most of my respect for the music industry, but man, it's still a good song with integrity, probably because it had Peter Gabriel (Oh yes, Gabriel didn't abandon any smidge of artistic integrity when he abandoned progressive rock). Granted, there are, like, a million songs actually titled "Look of Love" that I could have referenced, but I still find my final quote most fitting, because I can't help but think of that song plugged into the tear-jerking series-oh, I mean "season 8" finale of "Scrubs" (Forget you, ABC; CBS should have kept that license), which was such a big comedy which ultimately came down to some powerful drama, just like how comedian Steve Coogan, with this film, is going dramatic on us... to an extent. I reckon after "The People vs. Larry Flynt", it's safe to say that a biopic about an adult magazine publisher shouldn't be taken too seriously, no matter how much they tout the project as a "drama", at least when it comes to our much less sophisticated, more sensitive American tastes. You've got to remember that this film is British, and I mean really, really, really British, and to them, Michael Winterbottom's relative claim-to-fame, "9 Songs" was probably the best comedy of 2004. Shoot, I didn't see it, so it very well could have been, though I do know enough to say that it is by no means good old-fashioned fun for the whole family to enjoy... very, very quietly. After that film, of course Winterbottom is perfect to direct a film about a smut peddler, and yet, that's not to say that this film is even remotely perfect, as it has its share of problems, not unlike Paul Raymond himself. Let me start by saying that this film, while not all that demanding with its exposition as an "extensive" biopic, is seriously underdeveloped, offering only so much exposition to get you associated with the leads, who are conceptually colorful characters, but often simply come off as questionable sleazeballs, due to limitations in flesh-out. Okay, now, the characters aren't that distancing, or at least not as distancing as they could have been, - thanks to highlights in writing and acting - yet in a lot of ways they remain too undercooked for their own, and wouldn't get to that point if the film wasn't eager to sum up the life and times of Mr. Paul Raymond, hurrying in a way that not only further hurts expository wealth, but gets to be kind of repetitious before too long. As surely as the characters stand to be more repelling, storytelling stands to be more slam-banged, but the film, covering a lifetime within a 101-minute window, loses focus at times, whether when it's dragging along, or struggling with its juggling of the layers of this narrative, whose transitions are sometimes too swift to be smooth. Of course, focal unevenness is not only detrimental here, for although it can't be all that easy to tastefully interpret the story of an intelligent, but sleazy man who is best known for his impact on erotic entertainment, even when you take this drama for what it is, it still gets confused with its layering, undercutting dramatic kick by jarring in its leaps between lively fluffiness and, well, "relative" seriousness, but at least keeping consistent in familiarity. With all of the underdevelopment and unevenness, the flaw that is likely to stick out the most is simply conventionalism, as this is yet another mid-profile biopic of its type, having little, if anything new to offer as a weapon against intrigue limitations, which are indeed there, because even though Paul Raymond's story is interesting, he's just not quite as interesting as the focuses in certain other films which are too much like this one. I'm not saying that there's a whole lot potential here, but the final product leaves much to be desired as it tells a familiar story in an undercooked and uneven fashion that prevent the effort from achieving a genuinely rewarding status. That being said, the final product doesn't fall so short that it doesn't engage just fine, and with style no less. Even the film's musical style is worthy of some praise, as the generally very '60s and '70s score and unoriginal soundtrack is not only suavely enjoyable by its own delightfully entertaining right, but complimentary to the selling of both the liveliness and the setting of this film, whose environment is further brought to life by Carly Reddin's art direction, which restores the colorful look of the '60s and '70s (For the record, it dips into the '80s, but it still prefers the flavors of the '60s and '70s), further flavored up by the capturing of the glamour of Paul Raymond's lifestyle, and even by dashing cinematography. Hubert Taczanowski's cinematography isn't exactly stellar, but it's still very, very strong, playing with the dark depths of colorful visuals in order to capture the handsome sleaze of its risky subject matter, and look fabulous along the way. It's debatable whether or not this film looks as good as many of its female cast members, but make no mistake, it still looks excellent as a highlight in the stylistic sharpness, which isn't to say that there aren't commendable areas within this stylish biopic's substance. Even with the formulaic storytelling taken out of account, this film's subject matter has only so much intrigue, and is, in quite a few ways, sleazy to the point of featuring questionable characters and plot elements, yet through all of that, this is still a generally interesting look at the rises and falls of a controversial erotic "arts" tycoon, complete with liveliness and human trials which are sold just fine by Matt Greenhalgh's script. Greenhalgh's script is perhaps stronger than Michael Winterbottom's direction, at least when it comes to attributes beyond style, and it's still, uneven, hurried and all around pretty flawed, yet it remains brighter than some are giving it credit for, with sharp dialogue, - highlighted by clever humor - and organic layering to match unevenness and give you a feel for the depths of the characters who drive this biopic, and are themselves truly brought to life by a colorful cast. There's not a whole lot for the performers to work with here, but reasonably memorable and convincing performance can be found across the board, especially when it comes to the leads, with Imogen Poots being all but revelatory as a powerful man's spoiled and corrupted daughter on a road to ruin, while leading man Steve Coogan turns in a decidedly revelatory performance, immersing himself in the role of Paul Raymond with his usual sparkling charisma, broken up by moving dramatic beats which show that Coogan can do more than evoke chuckles. The film has its flaws, but the more you get used to it, the easier it is to pick up on its strengths, of which there isn't enough for the final product to be as rewarding as certain other biopics of its type, but are bound to keep you frequently engaged, or at least entertained, in spite of the shortcomings. When the book is closed-I mean, when the look is... closed, or something (I confused myself with that opening paragraph that rambled on about "The Book of Love"), considerable underdevelopment, repetition and even some unevenness spawn from hurrying, while much too much familiarity reflects the natural shortcomings of this subject matter enough to drive the final product short of rewarding, but there's still enough sharp style, - formed from a fine soundtrack, colorful art direction and lovely cinematography - intriguing subject matter - done a fair amount of justice by clever writing - and charismatic acting - particularly by revelatory leading man Steve Coogan - to make Michael Winterbottom's "The Look of Love" a faulty, but nevertheless entertaining and sometimes dramatically engaging portrait of one of the more influential mid-20th century pornographers. 2.75/5 - Decent

The Look of Love was originally called The King of Soho until that title had to be dropped due to a legal dispute. It is a very interesting and versatile British biopic of Paul Raymond, directed by Michael Winterbottom. I was happy to watch another movie with Steve Coogan, this time as Paul - a British pornographer and owner of the most of the Soho striptease and "entertaining" clubs. Matt Greenhalgh did a wonderful job developing the characters in the screenplay to feel real and sometimes deflated of the fame and glory the media attaches to them. The beginning of the film is London in 1992, and from that moment I was caprivated and glued to the screen. Paul Raymond (Steve Coogan) has returned to his flat after attending the funeral of his daughter Debbie (Imogen Poots), and putting a videotape of a TV programme they took part in, starts reflecting on the ups and downs of their life. In the late 1950s, Raymond was an impresario on the seaside variety show circuit where he is making a name for himself by adding semi-nude women to his variety acts. As a colourful character, he doesn't stop there and in the early 1970s he moves into theatrical revues... here he meets actress Amber St. George (Tamsin Egerton) and soon his marriage ends... from there on is a real fast-speed ride in a hedonistic, coke-fuelled lifestyle. Very personal, warm story, of a father who was the richest man in Britain at the time but who never recovers after his daughter's suicide. Outstanding performance of Steve Coogan in which he shows that he is not just a comedian but a fine actor as well, showing amazing skill to portray a man who made money destroying all emotional entanglements in his life, transformed in rare moments to a loving father and grandfather. This is not a comedy, the life of this "successful" man is presented more as a tragedy, and we could watch how this modern King Midas is making to the top at the cost of losing those closest to him, just to ask himself: was it worth it!?

In 1992, burlesque and porn entrepreneur and very, very wealthy man Paul Raymond(Steve Coogan) mourns the death of his daughter Deborah(Imogen Poots). In thinking back, he returns to one of his earliest ideas which was to have a lion taming act in a cage with two topless women.(I didn't say it was a great idea...) When his wife Jean(Anna Friel) has to take over for one of the women who sensibly has second thoughts, she sues a newspaper over a dispute about how little she was wearing at the time. With that bid of notoriety to their name, it is only up, up and beyond for the Raymonds. What makes their marriage work is an arragement that Paul can have sex outside of marriage. However, the same cannot be applied to love which is what happens when Paul meets Amber(Tamsin Egerton), nee Julia, when she auditions for one of his productions. As racy a movie as it is, "The Look of Love" is really not about sex nor is it concerned with drugs. Rather, it makes a very well-developed case for moderation in all things, as exemplified by the scenes at the sweet shop. For example, swingers do not make the best of parents. But as stimulating as it can be to review a recent history of erotica, two key performances do not hold up under scrutiny and with them go the movie. No matter the different hairstyles, Steve Coogan is still Steve Coogan doing impressions in a restaurant. And even more importantly, while Imogen Poots has done fine work elsewhere, here she does not have the requisite impact to be fully successful as the emotional core of the movie and the only character who tragically fails at reinvention.
See Details