The Main Thing Is to Love
(1975)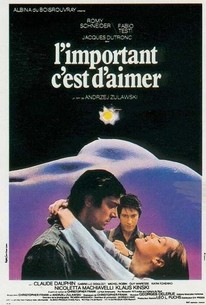 AUDIENCE SCORE
Critic Consensus: No consensus yet.
Movie Info
Freelance photographer Servais (Fabio Testi) meets luckless Nadine Chevalier (Romy Schneider) an aging, world-weary, would-be movie star who thus far has only been able to find work in cheap exploitation movies. Trying to win her affection, Servais borrows the money from his underworld employers to launch a theatrical production of +Richard III starring Nadine as Lady Anne. Though cold and skeptical at first, Nadine gradually falls in love with Servais, and eventually finds herself torn between him and her husband Jacques (Jacques Dutronc), to whom she feels morally obligated. Set in a world of losers and futile talents, this dark and moody drama depicts love as the only source of salvation. Memorable performances and skillful direction make this film a powerful experience.
Critic Reviews for The Main Thing Is to Love
There are no critic reviews yet for The Main Thing Is to Love. Keep checking Rotten Tomatoes for updates!
Audience Reviews for The Main Thing Is to Love
An intense picture that shows how twisted and utterly disgusting love can be. At the eyes of Andrzej Zulawski, love may be the most evil, hurting, sickest, cruelest act of posession. Everybody acts insane in his films, because no one lies, they all show their true self without hesitating. But in this demented and violent world, love can only be born out of pity, and the only way to attain grief is suffering, both psychologically and phisically, crawling in our own blood.
Pierluigi Puccini
Super Reviewer
½
This film is amazing; the acting is phenomenal!
Stefanie C
Super Reviewer
½
In "The Most Important Thing: Love," Servais Mont(Fabio Testi) is a war photographer who is forced to pay off his father's(Roger Blin) debts by working for Mazelli(Claude Dauphin), a pornographer. Not aware of the favor his son is doing for him, he crashes on his couch while romancing a Wimpy's waitress. There is nothing out of the ordinary in Servais' assignment of getting unauthorized photos at the set of an exploitation flick until the pleas of Nadine(Romy Schneider), a 30ish actress, strike a chord with him. So, the following day, he goes to her house ostensibly to photograph her half naked for a magazine cover while her husband Jacques(Jacques Dutronc) is in the other room making coffee and singing opera off key in order to get to know her better. However, they do not like it when he shows up unannounced at 5 am. In order to make it up to her and back into her good graces, Servais arranges for her to star in a play. "The Most Important Thing: Love" is an oddly engaging film that it is perhaps necessary to take a step back from in order to fully appreciate it. And while we have seen other movies before and since with a movie within a movie, the difference here is that once the filming is over, the viewer is still in a strange world where it is hard to tell what is real and the men from the women without a scorecard. Granted, this is the seamy underside of pornography and exploitation films(not the same thing, by the way) with titles like "Nymphocula," but that does not mean all hope is lost, especially for Nadine, even if she is in a profession where youth is worshipped. Servais is drawn to her because at least she is real while Jacques was drawn to her because of her being involved in an unreal business.
The Main Thing Is to Love Quotes
| | |
| --- | --- |
| Lapade: | People have no more destiny because they have no morals and they have no more morals because they have no illusions. And my best time was this! |