The Man Nobody Knew: In Search of My Father, CIA Spymaster William Colby
(2011)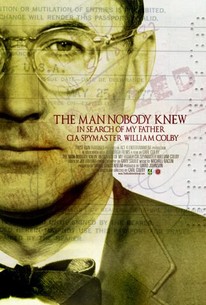 The Man Nobody Knew: In Search of My Father, CIA Spymaster William Colby Photos
Movie Info
A son's riveting look at a father whose life seemed straight out of a spy thriller, The Man Nobody Knew: In Search of My Father, CIA Spymaster William Colby uncovers the secret world of a legendary CIA spymaster. Told by William Colby's son Carl, the story is at once a probing history of the CIA, a personal memoir of a family living in clandestine shadows, and an inquiry into the hard costs of a nation's most cloaked actions. -- (C) Official Site
Critic Reviews for The Man Nobody Knew: In Search of My Father, CIA Spymaster William Colby
Audience Reviews for The Man Nobody Knew: In Search of My Father, CIA Spymaster William Colby
To be honest, "The Man Nobody Knew" is not the quite the documentary I was expecting. While this is not entirely a bad thing(there is some great use of rare archival material), it is still a shame that Carl Colby pretty much just works around the margins in trying to get to know who his father, William Colby, former head of the CIA, really was. Such secretiveness was not just due to his father's occupation but his generation when it was not required of a father to be friends with his son or for a man to reveal his feelings or weaknesses. Also of that generation were preconceptions of the Cold War that led to Communist defeat in Italy after World War II but not in Vietnam. While William Colby and family were getting to know President Diem in Saigon, a nationalist struggle was taking root in the countryside.(Not mentioned are canceled elections mandated by the Geneva Accords to unite the country.) So while there is plenty of testimony in favor of the security of the Strategic Hamlet program, nobody mentions that this also cut off the peasants from their land. The Phoenix Program quickly got out of hand, angering the next generation to find out what has been carried out in their name. So William Colby takes the heat in front of Congress and is fired from the CIA while Nelson Rockefeller, Donald Rumsfeld, and Henry Kissinger, a true Axis of Evil, are left in power.
The Man Nobody Knew: In Search of My Father, CIA Spymaster William Colby Quotes
There are no approved quotes yet for this movie.