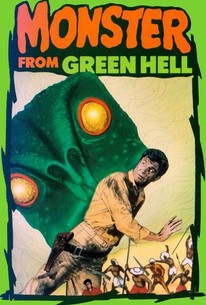 Monster From Green Hell
1957, Sci-fi, 1h 11m
4 Reviews
Fewer than 50 Ratings
Where to watch
Subscription
Rate And Review
Monster From Green Hell Photos
Movie Info
Researchers (Jim Davis, Robert E. Griffin, Joel Fluellen) recover a rocketship in Africa and its cargo of now-humongous wasps.
Genre: Sci-fi

Original Language: English

Director: Kenneth G. Crane

Producer: Al Zimbalist

Writer: Louis Vittes, Endre Bohem

Release Date (Theaters): limited

Release Date (Streaming):

Runtime:

Distributor: Distributors Corporation of America Inc.

Aspect Ratio: Flat (1.85:1)
Audience Reviews for Monster From Green Hell
So there's a monster, and it lives in green hell, translation, a giant bug that lives in the jungle. I'm guessing that's why its called green hell because the jungle primary colour would be green, I guess. Problem is there are actually a few of these giant bugs, not just one, so technically it should be monsters, not that it matters much, but how many of these old 50's sci-fi movies have posters that are completely inaccurate. All American scientists Dr Quent Brady and Dan Morgan are researching a special program that sends animals and insects into space to test their survival chances (sounds rather dubious). Naturally one of these experiments (containing wasps) goes wrong after take-off and comes down off the west coast of Africa. A few months down the line and reports come in from that same location of monsters causing havoc, aye aye...sounds a bit iffy. The America duo surmise that the wasps had been exposed to cosmic radiation in the rocket before it came down, eh? but how?? So off they go to Africa to find these monsters. The plan being to meet up with another scientist in the danger zone, so first they have to trek there, 400 miles, like seriously? they couldn't take a small plane? Once at their destination the team must track down the giant wasps and make sure they won't breed any further, because that would endanger the world! Dun-Dun-Duuuun!! There's a big problem with this movie, and that's the use of other footage from other movies, mainly a film called 'Stanley and Livingstone'. Once the Americans reach Africa, what you see is actually very impressive landscape wise. Almost all of the sequences show lovely wide shots of the African wilderness, nature roaming free, and scale shots showing the team set against vast open ranges. But I'm not actually sure how much of these shots were actually shot for this movie, the main issue being they look too damn good for such a shitty low budget horror like this. The other problem being I haven't seen this other old movie so I cannot make any real decision on the matter. Sure its obvious that some shots are stock footage, that's clear as day, but other shots showing the team (or a team of people) walking across the savannah, I don't know. They could have been shot for this film, its possible, some shots/sequences do sync up together reasonably well, but the black and white does a good job of hiding any fractures, unless its really obvious like large tonal/shade shifts. Indeed, some of the shots with natives clearly involved hundreds of extras, possibly more! I was actually really taken aback at the scale, surely these must have been snippets from the other film. The giant wasps themselves are a hokey affair as you might expect. Large scale movable models or puppets were constructed that merely loomed into shot, wiggled the odd antenna, then lurched back out of shot again. Naturally there was also the obligatory large scale claw for close-ups of attacks and kills, the usual stuff really. There was a small sequence involving some stop motion effects though. A snake attacks one of the wasps and coils itself around the beast, all this was clearly done with stop motion effects and, I think, looks much better really, in a kooky way. Other than that very small sequence everything else was using the large puppet heads or simply utilising very crude rear projection. The finale is the biggest cop out and example of piss poor effects and writing. After everything (including grenades!!) the team don't actually kill the wasps, the erupting volcano does, so in essence they needn't have even bothered coming on the massive journey they did because the bugs would have been wiped out naturally anyway, sheesh! But the worse aspect was the effects, tonnes of erupting volcano stock footage with rear projection images of the wasps in the background. Its implied that the wasps are killed by the lava, not that you would guess that because the effects are so bad and it just looks like documentary footage of an erupting volcano. [i]'nature has a way of correcting its own mistakes'[/i] Whoa! hold on there chief, nature didn't do anything, nature didn't make any mistakes, I do believe it was you humans that caused all this. Remember? you sent a space rocket into space full of wasps, it all went wrong and crashed in Africa, next thing we know there are giant wasps stinging people to death. Ring any bells Mr. American scientist? Oy! But lets get back to the rest of the movie for a minute. Before we even get anywhere near the giant wasps we have to sit through the huge jungle trek the team undergoes to get to the affected area. I kid you not this takes up most of the bloody movie! A 400 hundred mile trek and they really do make you feel it, realistic I suppose. The gang march across various terrain dodging dangerous wildlife, the weather, dehydration, the shits (probably) and revolting natives. Yep they come under attack from the locals (well a gazillion of them, I kid you not) and manage to escape by setting the bush alight! because hurrah! out of control bush fires are good! So they do escape of course, but not before they lose some of their local guides/helpers in the process to arrows, the ones that survive eventually run off. Yeah so there's not much to say about this really, the only plus points are the sequences in Africa but I think most of them are from another flippin' movie! The cast are fine, usual thing, usual line up. Stereotypical gruff, good lookin' American lead, nerdy, elderly looking scientist, local native cannon fodder and the obligatory lone female. The giant wasps are very average, nothing special and you don't see them that much, really needed much more wasp action frankly. Its cookie cutter stuff from the 50's of course, nothing new about that, but its bottom of the scale stuff, it suffers from lack of excitement and giant wasps. The movie is about giant wasps so show us giant wasps doing stuff dagnabbit!
See Details