The Motive (El autor)
(2018)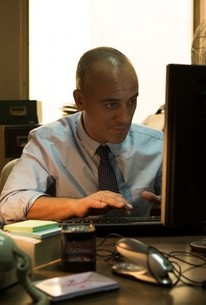 The Motive (El autor) Photos
Movie Info
Álvaro is a poor man trapped by his obsession: to write 'high literature'. He attends the typical writing courses and workshops provided by any non-talented 'guru'. But, actually, he has no talent. Maybe his wife isn't talented either, but she has just written a best-seller. The divorce is inevitable. In his new life, after moving alone to a small flat, he writes for the first time about real characters: his own neighbors. His writing teacher encourages him because for the first time the description of his characters is real, but he also warns him about the need of conflict: without conflict there's no story, no action, no life. Álvaro, obsessed with this idea, starts provoking these conflicts. It doesn't matter if he has to fuck the doorwoman, make his immigrant neighbor become unemployed, manipulate or deceive a lonely old man. Planning all the conspiracy for a possible murder doesn't let him see that, in fact, he is the real victim.
Critic Reviews for The Motive (El autor)
Audience Reviews for The Motive (El autor)
½
First things first, this movie's title, in its original language, is called El Autor which translates, literally, to The Author. So why this is called The Motive is beyond me. This happens a lot, particularly when I was young boy and I didn't have cable TV, so the local channels were all in Spanish. And they'd translate the titles of movies and it'd have nothing to do with what the real title, in English, was like. And I get that there's gonna be something that's lost in translation through different cultures with different languages. But, in the case of this one, you can't really blame it on that. It was handed to you on a silver-platter. Regardless, that's obviously a pet peeve and not something that has any relevance on what I thought about this movie. But yea, let's move on, shall we? Working on any creative endeavor is something that's very difficult. That's why I've always found it a little bit insulting when some people undermine the work of actors, filmmakers, musicians, painters, writers, etc, etc, etc, etc. It's hard work coming up with something that, not only are you satisfied with, but that others embrace and latch on to. In the history of time, when compared with how many people have lived on earth since its birth, there's very few people that have done this successfully, regardless what path they may take. On this occasion, however, let's talk about authors. Part of me has always thought about writing a book. Yes, really. Perhaps not even for actual publication, just for my own personal gratification. I've got a few workable ideas here and there, but I think my own self-appointed pressure and the fact that I'll probably be a really shitty writer keep me from putting...keyboard to Microsoft Word. Writing a book is no easy task. There's some people that make it look easy. Like, as an example, James Patterson has something like ten books releasing this year (some of which, I'm sure, are already out given that we're in September). Though, in the case of Patterson (my mom is a big fan of his Alex Cross and the Women's Murder Club series), I find that there's something fishy going on here. To be fair, I think, more than half of these books are co-written by someone else, but my theory is that Patterson's contributions are minimal. But, since Patterson is a big name in the literary world, his name is front and center in order to ensure more sales. That's just my working theory, I'm not trying to state this as fact. For all we know, Patterson really is that productive. Let's move on to the flick, though, shall we? This story takes a look at Alvaro, who's a notary married to a successful writer, attempting to write his own book. He attends these workshop classes, and has done so for three years, but his writing never seems to be good enough for his teacher, who roundly chastises him for his work not having any imagination, effort or passion put into them. So, in short, he's an untalented jackass, if his teacher is to be believed. Shortly after the movie's begins, Alvaro finds his wife fucking another man in his car (I'm assuming). He moves out, gets an apartment and there, an idea strikes him. His teacher told him to go out and live and experience life and then use that inspiration to write his book. Plenty of authors, and other creative people, take inspiration from their own lives and the people they're surrounded with, perhaps even doing so unknowingly. Alvaro, however, has other plans in mind, as he knowingly starts introducing himself in his neighbors' lives and he starts manipulating things in order to write their arguments down, if his manipulation does lead to them, for his book. I like the concept, I legitimately do. In many ways, while obviously different movies, it sort of reminds me of Sleep Tight, another film from Spain. The lead character in that movie is a residential concierge who plots to make, subtly, everyone's life a living hell to add some enjoyment to his own miserable existence. Alvaro is driven by the same motivations, essentially. He's clearly an unhappy man. He's also a man that, perhaps subconsciously, realizes that he is not and will never be a talented author. He is unable to craft compelling characters and interesting situations in which to put them on, so his neighbors serve as guinea pigs for his experiments, so to speak. That part of the movie I did like and Alvaro's arc, overall, is interesting. Alvaro is someone who puts his novel above everything, regardless of how many lives he ruins as a result of his manipulation. But, even with that, and I don't know why, but this movie never really is as interesting as its concept. I think there's a problem with the fact that the narrative only limits Alvaro to focusing on two of his neighbors. One is an ex-military who lives alone and another is a Mexican couple who's going through tough times economically and that's it. I mean, he uses the concierge to find out the information he needs in order to ingratiate himself into their lives as slyly as he can. And he does begin an affair with her (she's married), but somehow I don't really count her as part of the overall narrative in Alvaro manipulating this married couple to murdering this ex-military man who has a safe with a lot of money in it. I understand the more limited approach might be so things don't get too confused, with Alvaro juggling the lives of many neighbors, but still. I just felt that the movie could have done much more with its concept. And this is based on a novel (what a NOVEL concept.......I'm sorry), so for all I know the movie does have Alvaro manipulate more people. I suppose it's easier this way for the movie to show you the real consequences of Alvaro's manipulation. If he's attempting to affect the lives of, say, five or more of his neighbors, the consequences might not be so clear or they'll all converge and not make sense. Even with that said, I don't know, the movie does go where you expect them to but, at the same time, it doesn't go far enough. Alvaro certainly is a detestable human being and Javier Guiterrez (the man who plays Alvaro) does a great job, but there's just something missing. It also feels like not much is really happening in between the scenes where Alvaro manipulates his neighbors. He talks to his teacher, shows him the work in progress, the teacher gives him advice, etc, etc, but none of it really seems to be going anywhere. It feels like it's just artificially padding its own run time. It just feels like the movie could have been cut down to run 90 minutes and just been significantly better for it. I'm not saying that it's a bad movie, of course, it's a perfectly decent movie. It's well-made, the concept is strong and the acting is as well, but there's just something about this movie. Like Alvaro's targets aren't really characters, they're just toys for him to play with. And, essentially, that IS what they are to Alvaro, but that's the perception I had of them as well. I'm not supposed to think that, I'm supposed to think that Alvaro is a detestable man that deserves everything bad that will, eventually, come his way. So that's sort of ironic, in a movie where Alvaro's teacher stresses the importance of compelling characters, there's no one who's that compelling outside of Alvaro. The climax is satisfying, even if they gloss over the fact that someone ended up dying as a result of Alvaro's manipulation, but Alvaro gets what he deserves and that was pretty good. With all that said, I don't know what else I can say about this. Good potential and strong central character. But pacing issues, lot of empty scenes and uninteresting narrative that severely limits its own potential hold this movie back from being good. Javier Gutierrez is great as Alvaro, but Sleep Tight, a similar movie, is considerably better than this so, if you can access that, then give that a go instead. Decent, at best.
Jesse Ortega
Super Reviewer
The Motive (El autor) Quotes
There are no approved quotes yet for this movie.