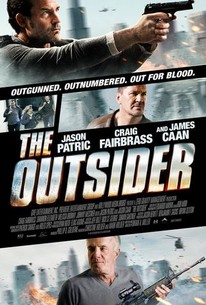 The Outsider
2014, Mystery & thriller/Crime, 1h 34m
20 Reviews
100+ Ratings
Where to watch
Rent/buy
Rent/buy
Rent/buy
Rate And Review
Movie Info
A military contractor (Craig Fairbrass) arrives in Los Angeles to identify his daughter's body. When he discovers that it's not her, he begins an investigation to track her down.
Audience Reviews for The Outsider
Some Writer/Directors prefer to use the same actors in their films. You can't blame them for wanting to work with people they're comfortable with, but not many Writer/Directors, remake the exact same movie with a slightly different twist. Brian A. Miller came out of relative obscurity to produce the hit action thriller, The Prince, starring Bruce Willis. Less than a year later, he followed it up with The Outsider, which is basically the exact same film! The Prince featured a former mafia turncoat, going to the city he once owned, in order to find his missing daughter. The Outsider features a former member of British Special Ops, coming to America, to find his missing daughter. Both films have similar endings, mafia bosses that are played by legendary action stars, and oddly enough, both films have a cameo by 50 cent. These two films are literally so similar to one another, that aside from the British accent, and Jason Patric in the role of the cop, nothing has really changed. As a fan of action film, I realize there aren't many different directions these films can go in, but to release what amounts to the exact same film, a year later, with several of the same actors, is just bizarre. The Outsider wasn't a bad film, and I did enjoy Craig Fairbrass, he was a beast, who I was previously unfamilar with, but aside from that, this is the exact same story as seen in The Prince. Wheather you chose to sit through this one or that one, really depends on who you like better, James Caan or Bruce Willis.

A stereotypical revenge thriller, The Outsider is a mediocre film that's by-the-numbers. Craig Fairbrass plays a single father who goes to L.A. in search of his daughter, who was reportedly murdered but turns out to be in hiding. Fairbrass is serviceable as the lead, as his character is rather one-dimensional. However, the supporting cast, which includes Shannon Elizabeth, James Caan, and Jason Patric, is pretty good and gives some interesting performances. And the action beats are well-done, featuring some impressive fight choreography. Yet while The Outsider is entertaining, it's completely forgettable and has no ambition.

Another generic American action crime drama which will leave you with no impression after watching it. Solidly directed by Brian A. Miller and written by Craig Fairbrass, the film stars Craig Fairbrass, James Caan, Shannon Elizabeth, Jason Patric, Melissa Ordway and Johnny Messner. I know people who are actually fans of this type of movies, where there is no much talking, except basic phrases, and most of the issues are resolved with the fist in the face. If you like something like that, this should be on your list! Shallow story is about an investigation of a dead daughter of a military contractor Lex Walker (Craig Fairbrass) , and his discovery after the arrival in Los Angeles, that the body of the victim is actually not his daughter's. It is a simple low budget action movie with low budget results.
See Details