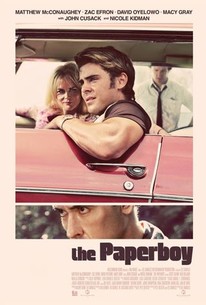 The Paperboy
2012, Crime/Drama, 1h 47m
147 Reviews
10,000+ Ratings
What to know
critics consensus
Trashy and melodramatic, The Paperboy is enlivened by a strong cast and a steamy, sordid plot, but it's uneven and often veers into camp. Read critic reviews
Where to watch
Free
Rent/buy
Rate And Review
Movie Info
In 1969 Florida, reporter Ward Jansen (Matthew McConaughey) returns to his hometown to write a story about death-row inmate Hillary Van Wetter (John Cusack), who was convicted of murdering a racist lawman. Ward hires his younger brother, Jack (Zac Efron), as a driver and, together with his partner, Yardley (David Oyelowo), gets to work. Though the possibility exists that Van Wetter is innocent, Ward and Yardley unwisely trust a vixen (Nicole Kidman) who will do anything to set the convict free.
News & Interviews for The Paperboy
Audience Reviews for The Paperboy
In "The Paperboy," Hillary Van Wetter(John Cusack) has been wrongly convicted of murder in Florida in 1969. At least, that's what Ward(Matthew McConaughey) and his friend Yardley(David Oyelowo) want to think when they arrive in Ward's hometown to write an article about Hillary for the Miami Times. In order to get around, they hire Jack(Zac Efron), Ward's younger brother and college dropout, to drive them. Which is harder than it sounds as Jack is instantly smitten with Charlotte Bless(Nicole Kidman) who of all the convicts she has been corresponding with has taken a particular liking to Hillary. "The Paperboy" is a delirious and kinky movie that is sunbaked but never overcooked, as Lee Daniels puts his unique spin on a Tennessee Williams style melodrama. The theme of the movie is deception, as all of the characters are either deceiving themselves or somebody else, with the exception of Hillary who is quite happy with who he is, even if few other people are. This is is at a time when the old ways are giving way before the new, as one revolution is on the verge of supplanting another. And it helps that the cast is so very game, with Matthew McConaughey for the first time in a while playing a character who is not trying to be the center of attention.

Almost X rated - lots of graphic sex and violence. This is a very dark film, with people making terrible, tragic choices. Cusak, and McConaughey, were excellent....but, even great acting couldn't make all the ugliness worthwhile for me, or save a pointless script.

Impressive performances (particularly from Zac Efron and Macy Gray) and stunning photography, not to mention a sweaty, pervasive atmosphere and great locations. But the story is dull and lacks a decent hook, and the characters feel like wonderful potential unfulfilled.

Set in the Jim Crow south during the civil rights movement, this lurid melodrama follows a college dropout as he helps his journalist brother investigate the case of a man who may have been wrongfully imprisoned; a strange love triangle heats up when he falls for the accused's nymphomaniacal death-row-groupie fiancee. The word "trashy" was invented for stories like this; it's as much fun as a stolen hump in the backseat of a 1965 Chevy Impala.
See Details