Kahlil Gibran's The Prophet
(2015)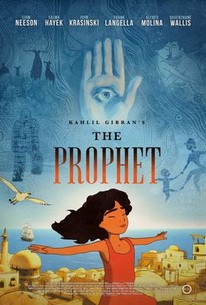 TOMATOMETER
AUDIENCE SCORE
Critic Consensus: Kahlil Gibran's the Prophet is a thrillingly lovely adaptation of the classic text, albeit one that doesn't quite capture the magic of its source material.
Kahlil Gibran's The Prophet Videos
Kahlil Gibran's The Prophet Photos
Movie Info
The Prophet, by celebrated Lebanese author Kahlil Gibran, is among the most popular volumes of poetry ever written, selling over 100 million copies in forty languages since its publication in 1923. Gibran's timeless verses have been given enchanting new form in this painterly cinematic adventure about freedom and the power of human expression. This breathtaking animated feature, produced and spearheaded by Salma Hayek, was an official selection at Cannes and made its North American premiere at Toronto International Film Festival. Written and directed by Roger Allers (The Lion King), the film intersperses Gibran's elegant poetry within stunning animated sequences by filmmakers Tomm Moore (The Secret of Kells, Song of the Sea), Nina Paley (Sita Sings the Blues), Bill Plympton (Guide Dog), and a host of award-winning animators from around the world. Set in a Mediterranean sea-side village, Kamila (Salma Hayek) cleans house for exiled artist and poet Mustafa (Liam Neeson), but the more difficult job is keeping her free-spirited young daughter, Almitra, (Quvenzhané Wallis) out of trouble. The three embark on a journey meant to end with Mustafa's return home - but first they must evade the authorities who fear that the truth in his words will incite rebellion. Featuring music from Damien Rice, Glen Hansard and Yo-Yo Ma. (C) GKIDS
Rating:
PG (for thematic elements including some vioelnce and sensual images)
Genre:
Directed By:
Written By:
In Theaters:
On DVD:
Box Office:
$217,451.00
Runtime:
Studio:
News & Interviews for Kahlil Gibran's The Prophet
Critic Reviews for Kahlil Gibran's The Prophet
Audience Reviews for Kahlil Gibran's The Prophet
½
You go with it, or you don't. If you find the actual poems themselves twee and full of blather, you won't care a jot about this sumptuously animated work that reconfigures Gibran's works into little epistles as a poet-radical in an unnamed Mesopotamian country (Lebanon) is possibly walked to freedom, or his doom. The framing story is handsomely done but conventional (a misunderstood rebellious child, a cute animal sidekick, Parents Just Don't Understand, etc.); the treat here is watching various animators in different styles illuminate Gibran's poems--"On Work" "On Marriage" "On Children" "On Death" etc. These snippets are gorgeous and soul-nourishing, not just because of the take-it-or-leave it poetry (I took it), but because of one's appreciation for the care, labor, and imagination that went into each short. ("Children" and "Work" are especially notable.) Kids won't get it, but audiences who thought "Inside Out" was a little too much inside-the-box will likely be richly rewarded.
Dean Backus
½
The obvious audience for this are devotees of Kahlil Gibran. He is the third best-selling poet of all time, behind Shakespeare and Lao Tzu, so he obviously has his admirers. If an array of animated shorts depicting his words sounds captivating, then I'd surely recommend this to you. The series of 8 videos presented here are all of noble quality - pretty images with spoken word narration. A couple have music to accompany them. My favorite was Nina Paley's "On Children". The shadow puppets of Indonesia inspire a mesmerizing visual tableau accompanied by a song by Damien Rice. It presents a pregnant female archer who shoots an arrow into the belly of another pregnant woman, thus giving birth to another human being. It's utterly hypnotic. The entire movie was produced by actress Salma Hayek, who also gives voice to one of the characters, and supervised by director Roger Allers (The Lion King). The talent behind the camera is considerable and the intentions are clearly heartfelt. It's a pleasant diversion, but far from necessary viewing. For die-hard fans of Kahlil Gibran's poetry, however, it should prove enchanting. fastfilmreviews.com
Mark Hobin
Super Reviewer
½
Despite an overlong and somewhat overly juvenile opening sequence, the film settles down into a beautifully animated, thoughtful meditation on various aspects of life and where they derive their origins from. Viewers who can make it past the first 15-20 minutes of the film will be rewarded with a gorgeous, inspiring film. Hang in there -- it's ultimately worth the wait.
Facebook User
Kahlil Gibran's The Prophet Quotes
There are no approved quotes yet for this movie.
Discussion Forum
Discuss Kahlil Gibran's The Prophet on our Movie forum!