The Puffy Chair
(2005)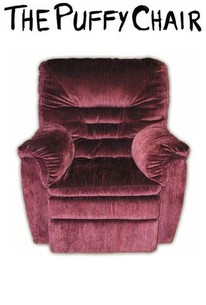 Movie Info
After finding a vintage Lazy Boy recliner online just like the one that used to grace his childhood living room, Josh decides to purchase the purple relic and deliver it to his father as a surprise birthday gift. Josh's simple plan is suddenly complicated when his emotionally demanding girlfriend, Emily, and his granola-munching brother, Rhett join him on the trip. During the road trip and mission, Josh learns a thing or two about himself and his relationships in the process.
News & Interviews for The Puffy Chair
Critic Reviews for The Puffy Chair
Audience Reviews for The Puffy Chair
An emotionally unavailable man and his wife take a road trip to visit his father, along the way picking up his hippie emotionally unavailable brother. Guess what this film is about. You got it: emotional unavailability. Normally I have a high tolerance for douchey characters as long as they're interesting. Josh and Rhett are douchey and uninteresting. Throughout the film it's hard to sympathize with them, and in the third act argument between Josh and Emily, the film is unfair to her: it's clear that she meant that she deserved better than the way he was treating her, not that she deserved better than him. It's bad writing. The performances are mostly good; I don't think Mark Duplass could have done more with the character he wrote for himself. Overall, this isn't a very complex or intelligently written film.
Jim Hunter
Super Reviewer
Cast: Mark Duplass, Kathryn Aselton, Julie Fischer, Rhett Wilkins Director: Jay Duplass Summary: When Josh (Mark Duplass, whose brother Jay directs) finds the perfect birthday present for his father, he decides to deliver it in person. But with his high-maintenance girlfriend (Kathryn Aselton) and granola brother (Rhett Wilkins) along for the ride, Josh's road trip turns into a bigger journey than anyone anticipated. This indie romantic dramedy was an audience favorite at the 2005 Sundance Film Festival. My Thoughts: "I enjoyed watching it. I found the two bothers to be interesting characters, and I found the girlfriend to be just annoying. I can't stand girls who are that needy, whinny, and that need a lot of attention. She is quite negative throughout. He made the mistake of inviting her along. It's not a film that is going to wow you and it's not your typical hollywood formula film. Which I think is the reason I liked it more then I thought I would. It's funny, quirky, and has a well enough story-line. Totally worth the watch."
♥˩ƳИИ ƜѲѲƉƧ♥
Super Reviewer
Weirdest freakin' movie I have seen in a while, but it was worth the watch.
Leigh Ryan
Super Reviewer
The Puffy Chair Quotes
There are no approved quotes yet for this movie.