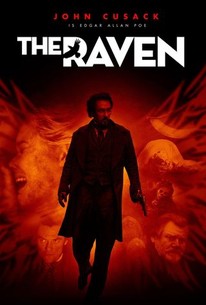 The Raven
2012, Mystery & thriller, 1h 51m
143 Reviews
100,000+ Ratings
What to know
critics consensus
Thinly scripted, unevenly acted, and overall preposterous, The Raven disgraces the legacy of Edgar Allen Poe with a rote murder mystery that's more silly than scary. Read critic reviews
Where to watch
Rent/buy
Subscription
Rent/buy
Rent/buy
Rate And Review
Movie Info
In 19th-century Baltimore, Detective Emmett Fields (Luke Evans) makes a horrifying discovery: The murders of a mother and daughter resemble a fictional crime described in a story by Edgar Allan Poe (John Cusack).When another murder occurs, also seemingly inspired by Poe's writings, Fields realizes a serial killer is on the loose and enlists Poe's help in catching the felon. The stakes become personal for the struggling author when someone close to him may become the killer's next victim.
News & Interviews for The Raven
Audience Reviews for The Raven
A lot better than I thought it would be. Though the first half hour or so isn't particularly entertaining, I ended up being interested soon after. I have to say, Cusack is a very good Poe. Worth checking out if you're looking for something different.

In "The Raven," it turns out that Edgar Allan Poe(John Cusack) has more important things to worry about in Baltimore in 1849 than his writer's block, not being able to buy a drink in a bar, and the threats from the father(Brendan Gleeson) of his girlfriend Emily(Alice Eve). That's because there is a murderer on the loose. Since Frank Pembleton is not yet on the police force, Inspector Fields(Luke Evans) is on the case, discerning some parallels between the gruesome deaths and Poe's work. And that's only the beginning... Unlike "The Following," "The Raven" certainly knows its Poe, if not its Jules Verne. Nor is it that badly staged. But I am sad to say that maybe for the first time that John Cusack gave a performance that was not only bad, but one that took the movie down with it; when in fact it required somebody who could chew on the scenery raw, like say Nicolas Cage. Luke Evans does what he can but Brendan Gleeson is somehow left with little to do. Plus, the derivative story does not make any kind of sense with its cliched damsel in distress.

This was such a convoluted movie. A convoluted movie that I really wanted to like, but its plot contrivances are simply too much for one to really enjoy the movie. I thought there was something here with John Cusack being a narcissistic, antagonizing drunkard and insulting everyone. But, quickly, they remove this from the equation to thrust him into the series of murders inspired by his works. There's just no real inspiration to the storytelling and it's like no real effort is made into making sure that it makes SOME sort of sense. Of course, they're also going for a stylish, gothic look more than actually telling an intelligent or gripping story. I mean I suppose tying the murders to Poe's stories makes it more interesting to some, but all it does is make you want to read the original stories more than it gets you invested in the story this movie is trying to tell. The movie is, at least, nice to look at and that, probably, more than anything else makes the movie FEEL better than it actually is. That visual polish simply isn't enough for me though. The thing about this movie is that, even with its silly contrivances, it is a movie that is easy to get into. I can see many more people enjoying this film much more than I did, and that's completely fine. I just felt that the story was WAY too generic and predictable for it to be any good. It is slightly below average, so you could do much worse than this film.

This was supposedly a thriller directed by James McTeigue and based on a screenplay by Ben Livingston and Hannah Shakespeare... but, really, didn't thrilled me much! Nor John Cusack, Alice Eve, Brendan Gleeson and Luke Evans could do anything for me . The story is set in 1849, and it is another (I'm getting sick of them) fictionalized account of the last days of Edgar Allan Poe's life. The plot is the poet's pursue of a serial killer whose murders mirror those in Poe's stories, and after watching what the writers and the director had to offer I will have one suggestion only: stick to the real life of famous people - that way at least you have a shot... this way, no wonder, the film barely made back its budget. Some visual effects were noticeable, as was the musical score by Lucas Vidal, and I liked the perfectly chosen locations in Belgrade and Budapest where the movie was filmed... but everything else, from various twists and turns of the plot to the performances could be described as flat and dull! I would not write too much about it, but at the end I could not see the purpose of making this movie - you have an outstanding poet and from his life and his poetry you take few verses in some insignificant scene and spoil the rest of the film with fictional chase of a kidnapper?! Why? He had a colourful life and he was a colourful character but all I could see in this movie were shades of boring grey!
See Details