The Return of the Vampire
(1944)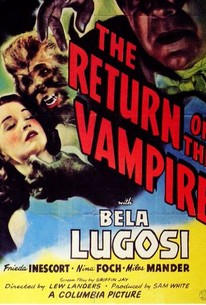 The Return of the Vampire Photos
Movie Info
A vampire (Bela Lugosi) surfaces when a WW II Nazi bomb uncovers his London grave and he and his werewolf attache must sate their blood-lust frenzy.
Critic Reviews for The Return of the Vampire
All Critics (5) | Fresh (3) | Rotten (2) | DVD (5)
Set during WWII, the film tries to combine wartime propaganda and horror.
One of Bela Lugosi's better later day roles since he played Dracula in the 1930s for Universal.
A straightforward -- almost by-the-numbers -- vampire movie, and one that stays on something like a high school level of horror, but with a strong Lugosi performance.
Audience Reviews for The Return of the Vampire
ok i bet the beging was dumb but who cares its bela as a vampire! haha
Morgan Salem
Super Reviewer
Dracula (Lugosi) returns from being staked in the end of the last film, which really isn't supposed to be able to happen, but the writers wanted to make a sequel, so ta-da! The story is stupid and disappointing to the fans, but Lugosi gives a pretty good performance anyway.
The Return of the Vampire Quotes
There are no approved quotes yet for this movie.