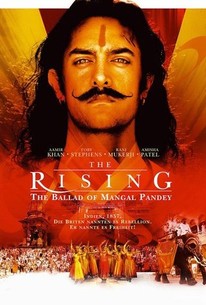 The Rising: Ballad of Mangal Pandey
2005, Biography/History, 2h 30m
13 Reviews
250+ Ratings
Where to watch
Rent/buy
Rent/buy
Rate And Review
The Rising: Ballad of Mangal Pandey Photos
Movie Info
It is the year 1857. The British are plundering the resources of their Indian subjects, who have reached their breaking point. Soldier Mangal Pandey (Aamir Khan) leads an uprising against India's imperialist occupiers -- events the British call a mutiny and the Indians call a war for independence. Throughout the violent events, Mangal maintains a friendship with Capt. William Gordon (Toby Stephens), who sympathizes with India's subjugated citizens and obeys his conscience.
Audience Reviews for The Rising: Ballad of Mangal Pandey
An interesting movie that centralizes around the friendship between two individuals, one Indian and the other British, during British colonial India. Mangal Pandey saved William Gordon's life, and the two become good friends. Exhausted by many years of cruel tyranny, an uprising begins in search for freedom. Great cast- Aamir Khan, Rani Mukherjee, Amisha Patel, and Toby Stephens. Worthy!

It was beautifully shot, and the message was a positive one. Unfortunately, I have a lot of gripes that prevent me from thoroughly enjoying it. For instance, the voice over narration, which was probably there for an illiterate audience who didn't speak a word of English, felt like it was telling me things I either already knew, or could easily figure out. Many of the female characters were two-dimensional, and seemed to only be put in the movie to add a romantic arc and little else. A shame, seeing as the actresses involved, Amisha Patel and Rani Mukherjee in particular, were fantastic. The movie was fairly decent overall, but felt a little too "epic" for it's own good. It's lengthy running time could've been trimmed down quite a bit. The last twenty minutes, I have to say, are some of the best last twenty minutes I've ever seen in a movie, and that makes up for a lot of the gripes I initially had with it.

Amazing! As a big fan or Aamir Khan's, I have to say, that this was probably one of his best movies. You learn a very wonderful message from this movie. I find it just great! The Hindi spoken by the English men was very amazing. I could see that it took a lot of dedication by just the fact that it took a couple of years to finish the film. I recommend it. A lot.
See Details