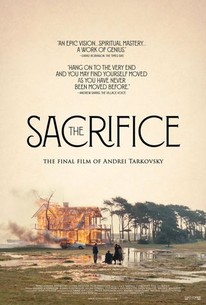 The Sacrifice
1986, Drama, 2h 25m
42 Reviews
5,000+ Ratings
What to know
critics consensus
Formally impressive, visually accomplished, and narratively rewarding, The Sacrifice places a fittingly solid capstone on a brilliant filmmaking career. Read critic reviews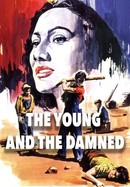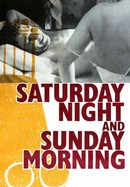 Saturday Night and Sunday Morning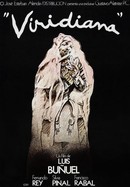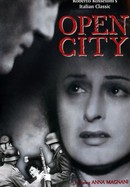 Where to watch
Rent/buy
Rent/buy
Rate And Review
Movie Info
Alexander (Erland Josephson) is celebrating his birthday with family and friends when they receive some stunning news from the radio. World War III has erupted, and the end of the world is near. In order to avert the apocalypse, Alexander makes a bargain with God: He'll give up everything he values in life, including his beautiful home and beloved son (Tommy Kjellqvist). So, when Alexander awakens from this episode, as if from a dream, he sets about doing just that.
Audience Reviews for The Sacrifice
Beautifully acted, directed and told The Sacrifice is a brilliant final work from legendary Russian filmmaker Andrei Tarkovsky. I've given my fair share of praise of his work, and with good reason because every picture that he has made has had the scope of fine filmmaking that only a select few could replicate. The only filmmakers that come to mind when comparing his work is Sergio Leone and Stanley Kubrick, because Tarkovsky tended to make truly spectacular films, films that made a significant impact on cinema. With The Sacrifice, being his final work before his death the same year of its release, Andrei Tarkovsky crafts a fine final film that is just as good as all his previous films. The picture is poignant, beautiful, well crafted and everything about it resonates with the vibe that Tarkovsky has been known for. Crafting a stunning feature with a simple, effective story, yet he takes his time for the plot to unfold and he uses the images to really tell the story and in doing so, The Sacrifice is elevated in terms of a fine work of filmmaking by a pure craftsman that was always able to make masterful, brilliantly shot picture that stood out. How does this film rank among his masterpieces such as Solaris and Stalker, it's definitely up there, and for me anyways, it's a film that is almost perfect, and Tarkovsky again displays storytelling with the basic ideas but he uses the power of vivid, captivating performances along with the powerful imagery to really engage the viewer and suck him into a highly memorable picture that is a brilliant way to end a stunning, legendary career. The Sacrifice is a great picture, and Tarkovsky and it's hard to believe that this was his final film before he died. However, if you're wondering, Andrei Tarkovsky ended his career on a high note, and The Sacrifice is a poignant, evocative and unforgettable drama that is a must watch if you've enjoyed most of his work.

The perfect poet's farewell is an astonishingly insightful reflection on mortality, an edifice in flames crumbling down, yet entirely sepparated from the disturbing evils of modernity. With all due respect to the master, Tarr did better in the 80s, but his intentional borrowing from Bergman's hallucinatory discussions on religion and God is perfectly understandable and justified, without that sense of doomed euphoria, yet with an existentialist tone invading the walls nonetheless. 96/100

First Andrei Tarkovsky movie I've seen, and his final feature. Will definently be looking forward to seeing more of his movies in the near future.This one concerns a theatre critics birthday party amongst close family and friends. When a news broadcast announces that WWIII has begun and nuclear holocaust is imminent. the attendees at the part react in various ways. Most extreme is Alexander who offers to sacrifice his family, his house and his son for this to reverse itself. So much of why this film works is based on its extreme minimalist approach and the mood it evokes, making a plot synopsis that is much more descriptive of what this movie is irrelevent. Apparently there are only 115 shots in this movies 2.5 hour run time, with shots that go on from 6-8 minutes commonplace. The opening shot lasting 9+minutes. So if you don't want to watch a movie that moves really slowly you might want to avoid this one. The cinematography is perfect though, and the minimalist approach i found really emotive. Definently a must see for more adventurous film fans.

I loved it. It has a great point and a great ending. It's very slow moving though, so be warned.
See Details