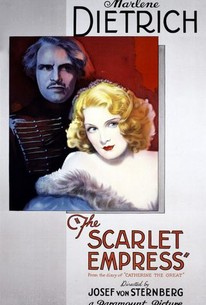 The Scarlet Empress
1934, Biography, 1h 44m
28 Reviews
1,000+ Ratings
What to know
critics consensus
Complex, visually stunning, and breathtakingly intense, The Scarlet Empress overpowers its flaws with a confident vigor befitting its legendary subject. Read critic reviews
Rate And Review
The Scarlet Empress Photos
Movie Info
During the 18th century, German noblewoman Sophia Frederica (Marlene Dietrich), who would later become Catherine the Great, travels to Moscow to marry the dimwitted Grand Duke Peter (Sam Jaffe), the heir to the Russian throne. Their arranged marriage proves to be loveless, and Catherine takes many lovers, including the handsome Count Alexei (John Lodge), and bears a son. When the unstable Peter eventually ascends to the throne, Catherine plots to oust him from power.
News & Interviews for The Scarlet Empress
Audience Reviews for The Scarlet Empress
Historical accuracy be damned. The surreal imagery, camp performances, weird little comedic bits, and Dietrich are the reasons to see this.

Marlene Dietrich is always a treat, and in this film, the 6th of her 7 collaborations with director Josef von Sternberg, she plays Catherine the Great. The film held my interest, but I have to say, it fell a little short for both Dietrich and von Sternberg. The ornate sets are fabulous, and include Expressionist versions of icons and garish carvings, but von Sternberg relies on them too much. He gives us dramatic action and an overly loud soundtrack, but works from a weak script, and loses the human element in the process. Dietrich flips from being too wide-eyed and open-mouthed in the first half of the film, overplaying innocence, to using her feminine charms to win over support against her husband, Peter III. The film is far from historically accurate, and we also don't see anything of Catherine's astonishing reign, including her love of the arts and her advancement of Russia. What we do see are here responding to "You know that the grand duke isn't exactly pleased with the present state of affairs" by quipping "State of affairs? What affairs? I haven't had an affair for some time" with a sly look in her eyes. It's made clear that she's sleeping around, and in one scene romps happily between two men. Aside from the disservice to Catherine the Great, which I suppose you can ignore because this is Marlene Dietrich after all, even in the context of a vehicle to highlight her eroticism, there is something cold and detached about it, and she's better elsewhere. Worth watching for Dietrich and the wild sets, but temper your expectations.

As opulent and decadent as can be imagined, Von Sternberg's vision of early court life is suffused in shadows and grotesqueries unlike most films of this sort, bringing to mind the axiom of absolute power corrupting absolutely. The story's not so good, but the imagery will stay with you.

The story of Catherine the Great's rise to power in 18th-century Russia seemed unlikely to snare me, but the combination of flamboyant set design, Josef von Sternberg's elegant direction and Marlene Dietrich's charismatic performance make this film fascinating. Add Sam Jaffe's goofy turn as the demented Peter III -- weirdly reminiscent of Harpo Marx -- and "The Scarlet Empress" becomes a can't-miss historical epic. The twisted stone gargoyles incorporated into the walls and chairs of the royal palace are so remarkable that they deserve their own movie. Von Sternberg's loving, soft-focus devotion to Dietrich's face is legendary, and this film captures her beauty in so many ways -- shadows, light and gauzy veils all contribute to the portrait. Meanwhile, Dietrich handles the role's early ingenue phase better than expected (she's all wide eyes and open mouth -- it's like watching Anna Faris's grandmother), though her later transformation to sexual vixen and shrewd leader is somewhat abrupt. One flaw: Von Sternberg's decision to use title cards as transitions seems stale and outdated -- apparently, his mind hadn't entirely left the silent era.
See Details