The Secret Life of Words
(2006)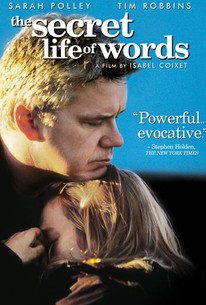 TOMATOMETER
AUDIENCE SCORE
Critic Consensus: The Secret Life of Words is a slow, mannered drama, but with a revelatory and powerful ending that rewards the patient viewer.
The Secret Life of Words Photos
Movie Info
Writer-director Isabel Coixet's (My Life Without Me) beautifully wrought chamber drama The Secret Life of Words opens on Hanna (Sarah Polley), a laconic, backward and introverted girl in her early '30s, quietly drowning in her own isolation. Partially deaf from working an untold number of hours in a loud factory, Hanna must wear a hearing aid. When her supervisors -- deeply concerned about the four years that have lapsed in Hanna's life without a break -- force her to go on holiday for a month, she hesitantly takes off for a coastal village in the north of Ireland. Once there, she decides to dine in a local restaurant, and overhears, by chance, a telephone conversation conducted by Victor (Eddie Marsan), regarding an accident on a nearby oil rig that he precipitated, which left a victim, Josef (Tim Robbins) in its wake. Hanna tells Victor that she is a nurse, and is instantly flown to the rig to treat the bedbound Josef -- temporarily blind from extensive cornea damage, and his body blanketed with severe burns. She also encounters the structure's motley and eccentric band of workers -- from ecologist Martin (Daniel Mays), who spends his time studying mutated mussels that collect on the ship's base and the waves that strike the side of the rig, to Josef, to chef Simon (Javier Camára), who prepares "gourmet" food no one else can stand, to Dimitri (Sverre Anker Ousdal), an elderly gentleman who is as much of a loner as Hanna. As Hanna begins to foresee a new place for herself among these individuals, a relationship gradually develops between Hanna and Josef, who holds his new friend rapt with lyrical, evocative, magisterial tales from his past -- unknowingly drawing Hanna, one step at a time, toward inner joy, self-expression, and revelation of her own sad and complex story. ~ Nathan Southern, Rovi
News & Interviews for The Secret Life of Words
Critic Reviews for The Secret Life of Words
Audience Reviews for The Secret Life of Words
A worthwhile film but that doesn't mean that it's an enjoyable movie viewing experience.
½
Not being much of a fan of Polley, this movie breaks all the rules. Wonderful story and fabulous acting (especially Polley). The way it slowly tells the stories of both Hanna and Josef and their journey together just mixes so well. FABULOUS!
Leigh Ryan
Super Reviewer
½
This very calm, quiet drama tells the story of a young laconic woman working at a factory without having much of a life, being forced to take some time off for vacation where she happens to overhear an oil platform being in need of a nurse. Instead of relaxing she takes care of a burn victim (Tim Robbins) who is is slowly recovering from an accident there. As she is slowly making contact with her flirty patient and the minimum crew there, she carefully seems to come out from her shell. Sarah Polley is really convincing as tortured soul with a dark secret, that is going to get revealed in the end, in a pretty gloomy and almost painful story to listen to. The fact that the movie doesn't end in despair right there but takes the tale a little further, where hope is still an option, makes it really rewarding in the end. Fine acting, an interesting and moving story, an all around convincing romance / drama.
The Secret Life of Words Quotes
There are no approved quotes yet for this movie.