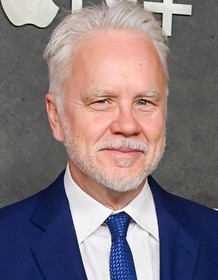 Tim Robbins
Highest Rated: 97% Bull Durham (1988)
Lowest Rated: 13% Howard the Duck (1986)
Birthday: Oct 16, 1958
Birthplace: West Covina, California, USA
Recognized by the Academy as both an actor and a director, Tim Robbins stands out in Hollywood not only for his 6'5" height, but also for his high-caliber, character-driven work and his career-long commitment to social issues. The New York stage actor had his Hollywood breakout in the atypical role of a dim jock in the classic baseball flick "Bull Durham" (1988), but five years later, he had established himself as a force to be reckoned with as the writer-director of the satire "Bob Roberts" (1992), and the Golden Globe-winning star of Robert Altman's sinister industry send-up "The Player" (1992). While directors like Clint Eastwood continued to tap Robbins the actor for films like "Arlington Road" (1999), "Human Nature" (2002) and "Mystic River" (2003), Robbins the filmmaker went on to helm the acclaimed death penalty drama "Dead Man Walking" (1995), and the Depression-era musical "Cradle Will Rock" (1999), where he skillfully offered viewers new perspectives on political and social issues; not through dogma, but through engaging, relatable characters and stories.
Photos
Tim Robbins
THE PLAYER, from left: Greta Scacchi, Tim Robbins, 1992, © Fine Line Features
THE HUDSUCKER PROXY, Tim Robbins, Paul Newman, Jennifer Jason Leigh, 1994, (c)Warner Bros.
THE PLAYER, Tim Robbins, Cher, 1992, (c) Miramax
THE PLAYER, Cynthia Stevenson, Tim Robbins, 1992. (c) Fine Line Features.
NOTHING TO LOSE, Rebecca Gayheart, Tim Robbins, 1997, (c)Buena Vista Pictures
I. Q., Tim Robbins, Meg Ryan, 1994
HUDSUCKER PROXY, Tim Robbins, 1994
HOWARD THE DUCK, Tim Robbins, 1986. ©Universal
ARLINGTON ROAD, Tim Robbins, 1999, (c) Screen Gems
BULL DURHAM, Susan Sarandon, Tim Robbins, 1988, (c) Orion
BULL DURHAM, Tim robbins, 1988, © Orion
MISSION TO MARS, Jerry O'Connell, Don Cheadle, Gary Sinise, Tim Robbins, Connie Nielsen, 2000, (c) Walt Disney
ARLINGTON ROAD, Jeff Bridges, Tim Robbins, 1999, (c) Screen Gems
JACOB'S LADDER, Macaulay Culkin, Tim Robbins, 1990, (c)TriStar Pictures
BULL DURHAM, Tim Robbins, Kevin Costner, 1988, (c) Orion
CADILLAC MAN, Robin Williams, Tim Robbins, 1990
THE HUDSUCKER PROXY, Tim Robbins (front), Paul Newman, 1994, © Warner Brothers
BOB ROBERTS, Tim Robbins, Lynne Thigpen, 1992, (c)Paramount
BULL DURHAM, from left: Kevin Costner, Tim Robbins, 1988, © Orion