Marjorie Prime
(2017)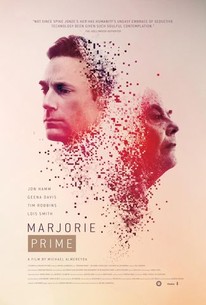 TOMATOMETER
AUDIENCE SCORE
Critic Consensus: Intimate in setting yet ambitious in scope, the beautifully acted Marjorie Prime poses thought-provoking questions about memory, humanity, and love.
Movie Info
Eighty-six-year-old Marjorie spends her final, ailing days with a computerized version of her deceased husband. With the intent to recount their life together, Marjorie's "Prime" relies on the information from her and her kin to develop a more complex understanding of his history. As their interactions deepen, the family begins to develop ever diverging recounts of their lives, drawn into the chance to reconstruct the often painful past. Built around exceptional performances from a veteran cast, Marjorie Prime shines a light on an often-obscured corner in the world of artificial intelligence and its interactions with mortality. Bringing us robustly into the future, Michael Almaryeda's poetic film forces us to face the question-If we had the opportunity, how would we choose to rebuild the past, and what would we decide to forget?
News & Interviews for Marjorie Prime
Critic Reviews for Marjorie Prime
Audience Reviews for Marjorie Prime
½
In a gentler future than the one's proposed by Skynet artificial intelligence has it's metaphorical hands full just trying to figure us out, much less be our friend. A quiet,sedate, adult offering with meaty chunks to chew over and meditate on, this is best perhaps enjoyed on a rainy day. Resonant and smart. Intuitive.
Kevin M. Williams
Super Reviewer
An often fascinating science-fiction meditation on memory and one that proves that the genre doesn't need a large budget or even special effects to be convincing. Lois Smith remains a national treasure.
Alec Barniskis
Super Reviewer
THE INSISTENCE OF MEMORY - My Review Of MARJORIE PRIME (3 Stars) Sometimes the stage is a better setting for meditations on a theme, where nuance is often sacrificed in order to play to the back rows. Film has the possibility of being a more kinetic art form, so when something gets slowed down to the intimate pacing of a couple of people sitting in a room talking, it requires much more patience than what regular multiplex visitors have. Such is the case with MARJORIE PRIME, the new film written and directed by Michael Almereyda (NADJA, EXPERIMENTER, HAMLET) based on the play by Jordan Harrison. It's a very slow, contemplative piece about memories and the needs they fulfill in our lives. Stay attuned to its thoughtful rhythms and you may be richly rewarded. Others will definitely see this as a snoozefest, but like a really good snoozefest. Lois Smith, a veteran actor so great in TRUE BLOOD, plays Marjorie, an elderly woman whose recollections of the past have started to fade. Tended to by her daughter (Geena Davis as Tess) and son-in-law (Tim Robbins as Jon), they live in a quasi-futuristic society in which holograms of loved ones have a continued presence in the family in order to provide companionship and a chance at recovering lost memories. Jon Hamm plays the hologram of Walter, Marjorie's late husband, but her choice was to have him appear as he did in his 40s. It plays out like a genteel version of HUMANS or an extremely melancholy episode of BLACK MIRROR. Everyone must teach Walter about the past. He's a fast learner, building his RAM from each conversation. He's a reasonable facsimile of the real thing, but not perfect. Enough perhaps to satisfy Marjorie. For anyone who has ever lost a loved one, the conceit of this film will prove to be enormously touching. I remember when my mother was passing away, she kept wondering if she would get her younger, healthier body back in the afterlife. It's how she remembered herself at her best. Same goes for Marjorie. Walter was at his best when he looked like Jon Hamm...go figure! As the story progresses, an inevitability sets in. I won't spoil its twists and turns, but Almereyda uses thoughtful, subtle transitions to indicate the passage of time. They reminded me of the ones Richard Linklater used in BOYHOOD. There's a much bigger emotional impact when you see a puppy turn into an adult dog in one edit rather than read a boring "5 YEARS LATER" title card. Most of the dialogue is strictly on-the-nose. These quiet, fragile characters talk a lot about the past and what it meant to them. The script doesn't really deviate from its themes. The characters, as well acted as they all are, don't have a lot of layers, but that one layer is all passion. One minor disappointment for me was the score. Mica Levi has certainly made an indelible impression in her short composing career with stellar work in UNDER THE SKIN and JACKIE. Here, she elongates some dissonant string notes and calls it a day. It's a lumbering bore of a score, unmemorable and one that makes the film a bit of a slog. The film also has what I disparagingly call the "large kitchen island syndrome", where the characters live in a lush, sterile environment. It's a bit on the bland side, but one that forces you to simply concentrate on the script's thoughtful ideas. To counter this, Almereyda and cinematographer Sean Price Williams (GOOD TIME) make wonderful use of the weather, with rain and snow adding their perfect sprinkles of atmosphere. Yes, it's mostly a filmed play with just enough cinematic elements to qualify as a movie. It's just people sitting and talking, which is revolutionary for a sci-fi film, and its ideas will have meaning to anyone who has ever looked back on their lives. It asks important questions, such as, are the exact memories as important as the ability to remember anything at all? Not a terrible thing to contemplate.
Glenn Gaylord
Super Reviewer
Marjorie Prime Quotes
There are no approved quotes yet for this movie.
Discussion Forum
Discuss Marjorie Prime on our Movie forum!