The Shock Labyrinth 3d (senritsu Meikyu 3d)
(2009)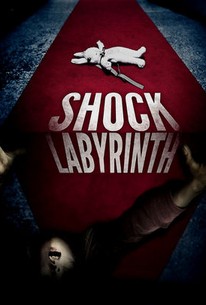 AUDIENCE SCORE
Critic Consensus: No consensus yet.
Movie Info
Japanese horror auteur Takashi Shimizu (best known for his international success Ju-On: The Grudge) leads viewers through a puzzle of fear and suspense in this thriller. Ken (Yuya Yagira) and Motoko (Ryo Katsuji) are a pair of old friends who haven't seen each other in over a decade, and when they run into one another, Motoko suggests they pay a visit to Rin (Ai Maeda), his girlfriend who knew Ken back in the day. When they arrive at Rin's place, everyone is surprised that their pal Yuki (Misako Renbutsu) has stopped by -- particularly because Yuki has been dead for nearly ten years, having perished in an accident at an amusement park. When Yuki suddenly falls ill, the three friends insist on taking her to the hospital. However, when they arrive, they discover the hospital is abandoned, and it soon transforms itself into an enormous haunted maze, where Yuki is determined to take revenge against her former friends. Senritsu Meikyu (aka Shock Labyrinth) was the first Japanese film to be shot in High Definition 3D. ~ Mark Deming, Rovi
Critic Reviews for The Shock Labyrinth 3d (senritsu Meikyu 3d)
All Critics (2) | Fresh (2) | Rotten (0) | DVD (2)
Shock Labyrinth is rarely if at all scary, but it certainly achieves all the tawdry razzamatazz of a funfair, and more importantly all the confounding disorientation of a hall of mirrors.
January 20, 2011
Audience Reviews for The Shock Labyrinth 3d (senritsu Meikyu 3d)
Great creepy little nightmarish Japanese horror; as good as the director's famous Ju-On series.The 3D effects really worked well I thought. The dream sequences were as spooky and reality-bending as a Nightmare on Elm Street film. It was fun like the famous 1977 "Hausu" film. The "Shock Labyrinth" setting of the haunted theme park hospital with its melted mannequins was awesome. The 3D depth really helped show off its creepy corridors and rooms. I could understand the developing story, and thought it all fit together nicely by the ending.
Lafe Fredbjornson
Super Reviewer
A surprising fall from grace for Japanese director Takashi Shimitzu, the guy responsible for the super-creepy Grudge movies. Shock Labyrinth was a drastic dip in quality. No scares, no atmosphere, poor story and lame acting. The film was made in 3D but it really didn't enhance the film at all, it's far from the likes of Avatar or even My Bloody Valentine 3D. Admittedly there was a couple of cool small visual effects to add a more creepy look to the ghost and the scenes at the end when the freaky wax figures came to life were very good, if only they were used more in the film. Overall this was just boring and not effective enough as a ghost movie. It could have been better, but even at its best it would have been quite standard stuff.
The Shock Labyrinth 3d (senritsu Meikyu 3d) Quotes
There are no approved quotes yet for this movie.