The Singing Forest
(2003)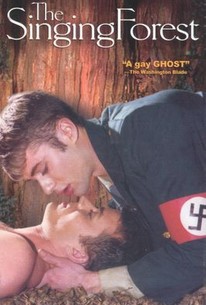 The Singing Forest Photos
Movie Info
Directed by Jorge Ameer, The Singing Forest follows Christopher (Jon Sherrin), whose wife of 22 years has recently died. Still in a deep state of grief, Christopher begins drinking heavily and becomes obsessed with the concept of past lives. Before long, he is convinced he is actually the reincarnation of a German resistance fighter who was hung by the Nazis for hiding Jews during the Holocaust. His situation becomes even more complex as his daughter's (Erin Leigh Prince) wedding approaches, and Christopher's sense of déjà vu around her fiancé, Ben (Craig Pinkston), is enough to convince him that he and Ben were gay lovers during a past life. As Christopher becomes increasingly disturbed and goes about seducing his daughter's future husband, he begins to reveal the strange, violent path his life had taken well before his wife passed away.
Critic Reviews for The Singing Forest
Audience Reviews for The Singing Forest
One of the worst films ever, given that it was an independent production, it was still so terrible. What's worse is that the film deals with a really morbid subject as well as a morbid plot. The gratuitous use of holocaust images was extremely rage inducing.
Sylvester Kuo
Super Reviewer
I've decided to rewrite my review seeing how many spelling errors it had, but my feelings are still the same for this garbage. It's a waste of time and provides pain towards the viewer and it's usage of actual Holocaust footage is just shameless as it pays no respect for those who died in that tragedy. Jorge Ameer, more deserving of being called the worst director who ever lived, set out to make his most ambitious film. A gay Romance story that takes two people that met in the Holocaust and meeting again in modern time. I truely wish I was making this up, but sadly I'm not. It has everything you hate in movies and has nothing you like. There's so many things wrong with this movie I could litteraly spend all day writing about them. Like how Christopher met his wife and concieved Destiny, his daughter, by raping her (Destiny mother), and is also in love with Destiny fiance. This Christopher is the most unlikable Christopher in the history of cinema, he's also the world worst and creepiest father. What bother me the most is that Destiny is okay with it, she doesn't care that her mother recently died or that her father is sleeping with her fiance, not even one poorly writen arguement in this movie. Though one thing I have to complentment Ameer on is that he even screw up something as simple as the closing credit sequence, which takes like 7 minutes and is poorly edited as well. It's awful in the editing department and become apparent very early in the movie. In one scene where Christopher and his friend is telling him to go to work after his wife just died when all of a sudden. You have a shot of two naked men appearing in bed together for no reason. In a dinner scene the sound is messed up as you can't hear what the hell these people were saying. It also happens again in a scene that takes place on a beach as the tidal waves literally block everything the "actors" are saying. Then later on the beach it fades to a scene with no sound only to fade to the same scene with no sound, now that's poor film-making. The ending, is just tasteless, they say rape baby don't have souls and send the message that gay marriage makes you younger. Everything in movie has poor production values and no effort was ever put into it. I recommend if you ever find a copy of this movie that burn it! Burn it! Burn it! Burn it! If you ever find Ameer punch him for misusing Holocaust footage for a film that pays no respect to that tragedy. This is easily one of the worst if not the worst movie ever made.
Caesar Mendez
Super Reviewer
Suffers mightily from it's low budget. The audio is muffled, the lighting is dark and while the leads give barely adequate performances the supporting cast range from amatuerish to downright awful. The direction is all over the place, while it follows a linear plot line at the beginning the last twenty minutes are extremely muddled.
The Singing Forest Quotes
There are no approved quotes yet for this movie.