The Sinners of Hell (Jigoku)
(1960)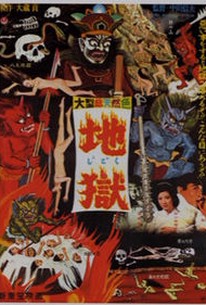 AUDIENCE SCORE
Critic Consensus: No consensus yet.
The Sinners of Hell (Jigoku) Photos
Movie Info
When a young college student had his sadistic friend leave a respected yakuza to die after inadvertently running him down on a lonely stretch of road, their fate is sealed in director Nobuo Nakagawa's Japanese horror classic Jigoku. Shiro's life seems to be going well; he's in love with pretty Yukiko and just received her parent's permission to take her hand in marriage. When his roommate, Tamura, runs down a drunken yakuza and refuses Shiro's plea to return to the scene of the crime and help the man, Shiro's conscience burns, and he soon admits his crime to Yukiko. As the two rush to Yukiko's father for advice, their taxi crashes and Yukiko dies in Shiro's arms. Overwhelmed by the tragedy that surrounds him, Shiro's life descends into a haze of alcohol and loose women until he receives word that his mother is gravely ill. Though he makes it to the senior citizens community in time to see her before she dies, Shiro is followed to the community by both Tamura and Yoko, a prostitute out to avenge the death of her yakuza boss. As Shiro is sent screaming into hell, his horrifying journey into darkness has only begun. ~ Jason Buchanan, Rovi
Critic Reviews for The Sinners of Hell (Jigoku)
All Critics (3) | Top Critics (1) | Fresh (2) | Rotten (1)
Shot mostly on bare studio sets with a lighting style even more theatrical than the acting, it feels like a weird piece of fringe theatre in three acts.
the film's bleak portrayal of sin and (maybe) redemption is easily adapted to any time, even if Nakagawa's particular version is unimaginable in any decade but the Sixties.
[Director Nobou] Nakagawa dazzles with his stunningly erotic-grotesque visualization of his interpretation of the lower depths.
Audience Reviews for The Sinners of Hell (Jigoku)
Confusing. The hell part is interesting at the end, but sticking around long enough to get to it is a challenge. It is probably actually quite a good movie for its time, but very hard to follow. Or maybe I was just in the wrong frame of mind to watch it. Parts of it are quite kitschy and clever.
Nicki Marie
Super Reviewer
½
while being an incredibly flawed film in many ways, jigoku is also utterly profound in its message and entirely effective in its execution. a film about a "good" man who through a series of poor choices finds himself in hell, this film builds well in its first two acts until a final act that enthralls completely. while ones world view may get in the way of their ability to be effected by the portraits of hell in the film, one cant escape the empty feeling that the film provides of a godless existence. a great and creative horror film the likes of which is rarely seen in this genre anymore.
Jigoku is supposed to be the first picture that used gore as a serious special effect, making it the grandfather of movies like The Texas Chainsaw Massacre, Hellraiser and such. Of course, you can't watch the end of the movie without the beginning, so you really have to make the choice of suffering through the first half of tedious exposition so you can enjoy the last half before giving up on it, entirely. I can't tell you not to see Jigoku, just that it's no longer the terrifying journey it apparently was back in the sixties. The first hour is long enough that I feel confident saying I don't really think I'll ever feel compelled to sit through it again. Western cinema such as Hellraiser owes a great debt to the stylization of the torture sequences, but they are tame in comparison to Clive Barker's far more sexual and visual depiction's two decades later. It is more interesting from cultural and religious perspectives than from a horror angle, but not very.
El Hombre Invisible
Super Reviewer
The Sinners of Hell (Jigoku) Quotes
There are no approved quotes yet for this movie.