The Space Between Us
(2017)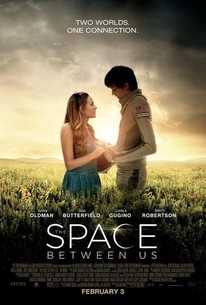 TOMATOMETER
AUDIENCE SCORE
Critic Consensus: The Space Between Us strands its star-crossed young lovers in a mind-numbingly vast expanse of shameless cheese that will send all but the most forgiving viewers eye-rolling for the exits.
The Space Between Us Videos
The Space Between Us Photos
Movie Info
In this interplanetary adventure, shortly after arriving to help colonize Mars, an astronaut dies while giving birth to the first human born on the red planet - never revealing who the father is. Thus begins the extraordinary life of Gardner Elliot - an inquisitive, highly intelligent boy who reaches the age of 16 having only met 14 people in his very unconventional upbringing. While searching for clues about his father, and the home planet he's never known, Gardner begins an online friendship with a street smart girl named Tulsa. When he finally gets a chance to go to Earth, Gardner is eager to experience all of the wonders he could only read about on Mars. But after his explorations begin, scientists discover that Gardner's organs can't withstand Earth's atmosphere. Gardner joins with Tulsa on a race against time to unravel the mysteries of how he came to be, and where he belongs in the universe.
News & Interviews for The Space Between Us
Critic Reviews for The Space Between Us
Audience Reviews for The Space Between Us
The only thing that stands out in this film is NASA having more money and resources than Matt Damon had in The Martian and the primary plot device being emotional manipulation. The solution to Gardner's medical problems is absurd and even the big twist at the end you feel absolutely nothing for because you don't believe it for a second. The Space Between Us is a romantic science fiction film that is nearly as insulting as a sci-fi as it is insulting as a romance.
Jacob Smith
Super Reviewer
½
There is something great about The Space Between Us, but the fact how it focuses more on romance than what it actually is kills the purpose of why this film should indeed exist. This film failed to deliver an actual interesting plot of science.
EpicLadySponge the Adventurer
Super Reviewer
Yet another film has come along that surprises with some solid trailers (even if they were a bit cheesy) and completely bites the bullet as a film itself. Not that I can say I was expecting The Godfather of a cheesy romance tale, but this film is the complete definition of a movie with promise that sadly works better as an idea, rather than a feature length film. I found myself enjoying the trailers for this film more, due to the fact that it displayed the story through time. The reason I think the trailers were better, is because the film plays out as a two hour long trailer itself. What frustrates me is that it actually had some promise. Here is why I believe The Space Between Us works better in theory, rather than execution. From the very beginning, the trailers made this film feel like it had a cheesy element to it. For that reason, I felt forced to go into this film with vastly lowered expectations. That being said, the story itself is not what let me down, even in the slightest. The execution was just horribly done. Following a crew of astronauts as they travel to Mars in order to inhabit it, a woman realizes she is pregnant along the way. Giving birth to her son Gardner, jumping sixteen years into the future, having him realize he has a father on Earth that he wants to meet, and setting out to find him, all while video chatting a girl (Tulsa) he met online, this film has a lot of ground to cover. You'd think that this film would end up being very long in order to flesh things out, but in reality, every single event that I just recalled, happen within the first 20 or so minutes. This is where such an interesting premise falls apart. Once Gardner reaches Earth and comes in contact with Tulsa, it very quickly becomes a road trip film, running away from the people they don't know can actually help them. Also, even though some may find their relationship cute and some of the things Gardner says adorable, it really is just a complete cheese-fest. I found myself rolling my eyes and chuckling through scenes that really didn't deserve a chuckle. As the mystery unfolds and they edge closer and closer to finding his father, some of the most ridiculous and outlandish twists begin to happen, spiralling the movie out of control. Normally I enjoy when a film moves at a brisk pace, keeping its audience engaged, but The Space Between Us moves from scene to scene and jumps forward through time, far too often to really grasp the emotional heft that the film is constantly trying to shove down your throat. As soon as the film began, something felt off. The trailers showcase themselves as a romance between a kid from Mars and a girl from Earth. While that eventually becomes what the film is about, the first scene follows characters you will never see five minutes later, leaving no emotional impact on the story. Once the main cast is introduced, I couldn't help but feel that I had seen every single one of them in far better films. I am a huge fan of Brit Robertson, Asa Butterfield has prove himself to be a likeable leading man, Carla Gugino has been around some pretty tremendous projects, and Gary Oldman quite honestly felt out of place. Everything about this film felt off to me, even though I sucked up the cheese factor, dealt with it, and eventually had a bit of fun with Gardner's interaction with Tulsa and how certain things make him react on Earth. Aside from their enjoyable screen time together (most of the time), The Space Between Us is an extremely messy picture. In the end, this is a completely nonsensical film that goes completely off the rails and becomes pretty unbelievable/predictable by the end, and yet these actors commit themselves enough that you actually believe what is happening. Still, this film still has some very inexcusable lines delivered throughout it and the plot twists are over-the-moon stupid. The more and more I think about this film, the more I dislike it. That being said, I do like the idea of the film, even though it doesn't actually work as a film, and there are moments where the schmaltzy dialogue works. In the end, it's next to impossible to sit through this film and not chuckle at how cliched and cheesy it is, even though these performers are giving it their all. The Space Between Us could have been so much better than it was if it trimmed out some very unnecessary sequences, replaced them with something actually interesting, and had a few more re-writes to make it less schmaltzy. It's not that I hated my experience with this film, but I would be lying to myself if I called this a good film in any way. Solid idea, followed by lame execution. The Space Between Us was like watching a splice of The Martian and Twilight, but with actors that are committed to these characters. I can't recommend it, but if you are a sucker for cheese, then you may get a kick out of it.
The Space Between Us Quotes
There are no approved quotes yet for this movie.
Discussion Forum
Discuss The Space Between Us on our Movie forum!