The Sunset Limited
(2011)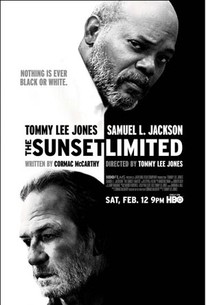 AUDIENCE SCORE
Critic Consensus: No consensus yet.
The Sunset Limited Photos
Movie Info
A God-fearing ex-con (Samuel L. Jackson) saves a despondent college professor (Tommy Lee Jones) from throwing himself in front of a speeding subway train, and struggles to comprehend the suicidal man's unwavering despair during a series of intense philosophical debates. Adapted from the play by Cormac McCarthy (All the Pretty Horses, The Road). ~ Jason Buchanan, Rovi
Cast

Critic Reviews for The Sunset Limited
All Critics (1) | Fresh (1) | Rotten (0) | DVD (1)
A thinking man's drama that rolls deep, heavy thoughts around and around, trying to puzzle out where the truth lies. Or, indeed, if what we see as the truth is just that: a lie.
Audience Reviews for The Sunset Limited
A gritty, atmospheric and brilliantly crafted piece of work. A triumph from Writer, Cormack McCarthy and Director, Tommy Lee Jones. It`s filled with the beautifully written language of its words and superb performances from its two great stars. Samuel L. Jackson and Tommy Lee Jones both give some of the best and most passionate acting of their careers in this film. They have dynamic and brilliant chemistry. This moving, shattering and thought-provoking movie will keep you thinking by yourself long after it`s over. It truly leaves it`s mark on you when it`s at its most gripping moments or even in its darkly funny moments. A groundbreaking and terrifically character drawn movie. It`s truly stunning, powerful and absolutely unforgettable.
½
Tommy Lee Jones goes director and goes simple with The Sunset Limited.
The full 90 minutes of screen time takes place in a single room apartment with only a couple central characters to follow. Unsurprisingly, the plot is light, but the film takes its time in revealing the major details about it. So the plot is light, it takes place in a single apartment, and there are only two characters. What keeps this picture going for 90 minutes? The dialogue.
The dialogue is philosophical, religious, and what makes it all moderately entertaining is that the views of the two characters are different. Each of them has their moments during this 90 minute discussion, which all leads up to a dramatic 10 minute conclusion.
To top it all off, Tommy Lee Jones and Samuel L. Jackson portray the two individuals at the table. Both mesh well together and both know how to, and do, effectively deliver their lines. This movie wouldn't have been the same without them.
For what it is, The Sunset Limited is nicely done, but it is the subject matter that is the determining factor at how enjoyable it is.
Seriously boring.. if you don't feel like falling asleep watching a movie don't watch this movie. You can actually just listen to this movie and not even see it. Just two grown men talking about different ideas including racism, jail, religion, god and eveything else in between. Two men in an apartment with their opposing beliefs.
The Sunset Limited Quotes
There are no approved quotes yet for this movie.