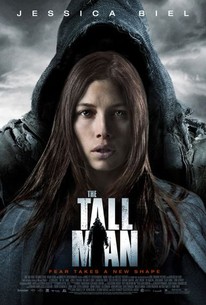 The Tall Man
2012, Mystery & thriller, 1h 46m
30 Reviews
5,000+ Ratings
Where to watch
Rent/buy
Rent/buy
Rate And Review
Movie Info
A nurse's (Jessica Biel) young son is the latest victim in a series of small-town child abductions rumored to be orchestrated by an ominous figure known as "the Tall Man."
News & Interviews for The Tall Man
Audience Reviews for The Tall Man
You have to pay attention. Great concept, but it wasn't done as well as I think it could have been.

One of those rare cinematic treats wherein the work is so bad one desires to reach out and flail the offenders as badly as one felt oneself assailed. I'm going with the director/writer as the major perpetrator of this assault on one's innocence, although the film's star seems suspiciously culpable as well. A vomiting in your face that begs Biblical vengeance, steer far clear of this.

While I think this movie could've been much better, I did think this had some really clever twists that keep you, not necessarily on the edge of your seat, but it subverts typical horror/suspense conventions. There's some misdirection here as the film leads you to believe one thing that turns out to be wrong in the end and I thought that was pretty clever. I think the big problem lies in the fact that there's not really much of a mystery to solve. I predicted what would happen 20 minutes into the movie. I don't mean to say I figured out the specifics of the plot, for example I wasn't aware of its sociological message until I saw it for myself, but the outline of it was exactly what I had predicted. And the problem is that instead of playing both sides against the other, so you could get a little more mystery as to what really was happening in this town, you get the answers handed to you almost too easily. About half of the movie is all about Julia's character and her reasons for her actions. While this leads to some of the film's better moments, with Jessica Biel probably delivering some her finest acting, at the same time the twist is a little ridiculous and overtly preachy. Basically, the reason these kids are being taken is that, since the town has been plagued by hard times economically, this organization that takes these kids wants to give them a better shot at life, where their potential isn't wasted away in a town that doesn't care to nurture that potential, so they're handed off to people that can afford to give the kids everything they want. Good schools, good home, etc. The problem is that growing up with rich parents doesn't necessarily mean that you'll have the most potential when you're an adult. You'll certainly have the most money behind you, but I don't think that counts as potential. If you're given everything you want in life without ever having to work for it, you could end up a completely lazy and useless human being, like the Kardashians. I'm not saying that growing up rich is bad, but it can sometimes be. Just like growing up poor can drive someone to work harder so they can have a better standing in life. Or it can lead to them being just like their parents and continuing that cycle of ruined potential, as Julia said in her little monologue. So this organization's ideals are flawed, so it makes them far more unlikable than this group that is doing great things for these kids, giving them a chance at a better life. Perhaps that was the intention of the movie, not everything is so black and white. But, to me, the way the movie was presented was almost like Pascal Laugier truly believed this and not to create morally complex story with shades of grey. But, the fact of the matter is that this organization comes across more as unlikable rather than an organization fighting for justice. Who are they to say that just because a child grows up in a poor home, that he or she will end up throwing their life away? They're basing their entire organization on what-ifs and not on actual real-world evidence. Basically, what it boils down to, is the quality of the parents themselves and not whether they're poor or not. Just because someone is rich doesn't mean that they can give a kid what they really need, love, affection and discipline. And I think that that's where the movie completely misses the mark. The argument was completely one-sided. But anyway, I thought this was a better movie than I expected, and it had some really clever twists and misdirection that completely drive your attention away from what's really happening. But, at the same time, the movie is definitely low on tension and it's certainly a little preachier than it should be. Jessica Biel is really good here, but the film misses the mark on its message completely.

Not a horror movie. Definitely an original. I think that it bothered me that they played it up so well the first half of the film as something really horrifying happening, then it turns out not to be the case. Points for originality, I guess...
See Details