The Trial of the Incredible Hulk
(1989)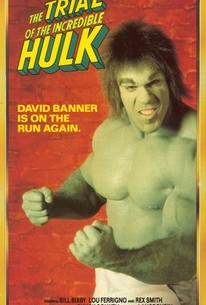 AUDIENCE SCORE
Critic Consensus: No consensus yet.
The Trial of the Incredible Hulk Photos
Movie Info
Bill Bixby and Lou Ferrigno return to their mutual TV role in The Trial of the Incredible Hulk. Bixby is Dr. David Banner, who, after being pelted by gamma rays, occasionally turns into the green, gruesome, uncontrollable Hulk (Lou Ferrigno). This time, Banner/Hulk cross swords with an evil zillionaire gangster (John Rhys-Davies). Joining in the good clean chaos is another Marvel Comics hero, the visually challenged Daredevil (Rex Smith). Made for television, Trial of the Incredible Hulk debuted May 7, 1989.
Critic Reviews for The Trial of the Incredible Hulk
There are no critic reviews yet for The Trial of the Incredible Hulk. Keep checking Rotten Tomatoes for updates!
Audience Reviews for The Trial of the Incredible Hulk
The best of the three made-for-TV Incredible Hulk movies in my opinion, despite the major continuity flaw of Banner's incognito beard in the first half disappearing when he hulks out. Bill Bixby had shared some uncredited directing duties on the previous movie. Now, one year later, he is given full directing credit and he starts by recording a new simplified voice-over for the opening credits. Banner, under yet another assumed identity, tries to remain anonymous and keep his head down in the big city, but is arrested after the Hulk stands up to two lascivious criminals on the subway and then changes back. His assigned legal counsel is none other than Matt Murdock (Rex Smith), so we are treated to another superhero crossover with Daredevil. Daredevil wears a sleek black costume and demonstrates fairly impressive gymnastic and martial arts skills, so I don't mind that he steals the focus from Banner and the Hulk. Criminal, cutting-edge tech genius Wilson Frisk AKA Kingpin (voiced with a purr by John Rhys-Davies) wants to take control of the whole city's criminal underworld and, of course, eliminate that pesky Daredevil. Even with Frisk trying to cover up a jewelry heist and Murdock trying to protect two witnesses who saw a couple of the robbers there is still time for some creative Hulk transformations including the title one (can you spot Stan Lee's cameo?). A true ally, a little detective work, a deadly trap, and a big final showdown all add up to an exciting time.
Byron Brubaker
Super Reviewer
This is the second in the series of TV movies based on the Incredible Hulk TV show. I really liked it, it's a bit silly at times, but overall the story and actors are really good, and it's exciting too. If you liked the show, you should see this.
½
One of this Incredible Hulk TV movies is average, but I'm such a fan of the Marvel characters as well as the big green hero terrified me when I was a kid on the TV series. And it was quite good to catch the first live-action look at Daredevil (in the black costume - didn't make sense to me) and his interactions with David Banner. Bill Bixby gives a decent performance as the down-trodden, world-weary David Banner, a man persecuted for his alter-ego yet still determined to do the right thing. Rex Smith also delivers in his role as Matt Murdock, giving those not familiar with the character a glimpse of what he could do, and John Rhys Davies excels as always as the Kingpin.
Dean McKenna
Super Reviewer
The Trial of the Incredible Hulk Quotes
There are no approved quotes yet for this movie.